Announcement
More editing options
2012, 2013, 2015 & 2017 Shoreland League Grand Champions 2014 Navarino Hardball Challenge Champions. 2015 Lakeshore Invitational Champions. 2016 Shoreland South Division Champions. 2013 & 2018 Shoreland Regular Season Champions. The Two Rivers Polar Bears is a semi-professional baseball organization located in Two Rivers, Wisconsin.  The team is a member of the Wisconsin Amateur Baseball Organization. The team has a long-standing tradition in Two Rivers, dating back to the 1930's. The team was reactivated in 2002 and is a corporate entity chartered by the state of Wisconsin and managed by a board of directors. The Polar Bears are committed to providing quality to their community while keeping it affordable for their fans.
Game admission is always free and concession prices remain as one of the most affordable nights on the Lakeshore for the family.
"Baseball, the way it is supposed to be!"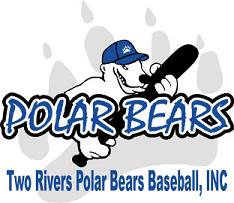 Comments
There are no comments for this announcement.