2012, 2013, 2015 & 2017 Shoreland League Grand Champions 2014 Navarino Hardball Challenge Champions. 2015 Lakeshore Invitational Champions. 2016 Shoreland South Division Champions. 2013 & 2018 Shoreland Regular Season Champions. The Two Rivers Polar Bears is a semi-professional baseball organization located in Two Rivers, Wisconsin.  The team is a member of the Wisconsin Amateur Baseball Organization. The team has a long-standing tradition in Two Rivers, dating back to the 1930's. The team was reactivated in 2002 and is a corporate entity chartered by the state of Wisconsin and managed by a board of directors. The Polar Bears are committed to providing quality to their community while keeping it affordable for their fans.
Game admission is always free and concession prices remain as one of the most affordable nights on the Lakeshore for the family.
"Baseball, the way it is supposed to be!"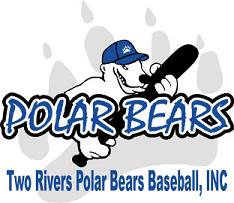 The 2010 schedule has just been released. Please take time to check out games and times on the Schedule page.
See you at the ballpark!
Chris Cisler and Brian Schmidt have been officially announced as the new operating managers of the team, effective January 1, 2010. They will replace Graig Stone, who has decided to stay on the team's board of directors as a team consultant for the 2010 season.
Click the link below to obtain the official league stat reporting form. Save a copy for your regular use or return here to obtain a new form each time it is needed.
We have rented out the 2/3 diamond at TDS Player's Choice in Appleton on Saturday, April 11, from 11:00 a.m.-1:00 p.m. Try to get there 30 minutes early, so that when our time comes up, we can get in good work.
Directions to TDS can be found through this link or by visiting their Web site here.
Any questions, contact Graig or Steve.