2009 NJSIAA GROUP II BASEBALL PLAYOFFS
Busy summer session to help Chargers rebuild
BY JIMMY ALLINDER Staff Writer

Glenn Fredricks, one of the architects in the formation of the GMC Summer Baseball League — which commences play on Monday — is eager to begin the games.
That's because the Spotswood High School coach plans to use the summer season to hopefully correct the defensive miscues that contributed to the Chargers' first losing season in 15 years, with a record of 12-13.
"While everything is fresh in our minds," said Fredricks, "the coaches and players are going to put their heads together and try to remedy the defensive errors. That means changing players' positions and seeing if different combinations produce better results. Preparing for next season is one reason why this summer league will be so valuable."
The 16-team loop will compete in a month-long schedule of games. Then, on July 1, Fredricks says, the plan is to re-seed the top 12 teams and stage an elimination tournament July 6-13.
"There will be a lot of baseball condensed into the beginning of the summer," Fredricks said, "but the 16 GMC schools which have committed to playing in this league will benefit by competing together with many of the players who make up next spring's team."
Fredricks said the games will be played on the fields where the teams played their school games.
"It's going to be a great learning experience for the kids," he said. "We can't wait to put into practice some of the changes we're making to help us improve our team."
Spotswood's uncharacteristic losing seasonwas plagued by untimely errors in games that could have gone the Chargers' way had the defense held up. Leads would evaporate in the latter innings when miscues were clustered together which led to opponents opening the floodgates and scoring runs.
One other footnote to Spotswood's season: the Chargers, a Group II school, did not shy away from scheduling against larger schools, including eleven against Group IV opponents. As a means of comparison, if Spotswood had played a schedule against teams of equal size, the record could have been much better.
"As the saying goes, we will play anybody, any place at any time," Fredricks said.
Still, Fredricks hopes — make that expects— improvement over this past spring's record going into next season. And with good reason.
The Chargers return some outstanding players, some of whom will continue to play baseball beyond high school. You can start with Cody Pace, the outstanding shortstop who needs just eight hits to eclipse 100 in his career. Pace also contributed as a closer on the mound, saving six games this season to go along with a 3-0 record.
Pitching, which was woefully inexperienced before the season, will likely be a plus next year. Freshmen Anthony Berg and Chris Stout saw important action and will be counted on as starters next year. Stout's record was 0-3 but the youngster may have enjoyed the best season of any Spotswood pitcher, hurling against Freehold Township, South Brunswick and Edison, giving up four hits over five innings.
Berg saw action in seven games and sported an earned run average under 3.00 for his effort. Rounding out the staff are juniors Jeff Coy (3-0, 2.75 ERA) and Kenny Langfield.
Spotswood can also look forward to the return of two other freshmen who saw significant action this spring. Matt Mangarella played second base and hit .295 with 18 hits and enjoyed a .463 on-base percentage, while third base man Dean Vitale started every game and hit .233 with 16 runs scored.
The Chargers will miss the graduated Jon Martin and Jamie Cullen, both three-year letter winners and contributors to the pitching effort. Centerfielder Joe Petosa also graduates as the school's all-time hit leader with 135, while first baseman, Bryan Smith led the GMC in home runs with nine, to go along with his 34 RBIs.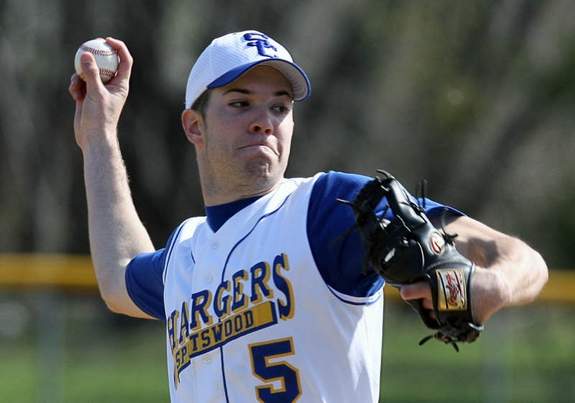 Cody Pace is going to hit no matter where he bats in the Spotswood High School baseball team's lineup.
He is simply going to drive in more runs when he's not in the leadoff spot.
Since moving to the No. 2 hole four games ago, Pace has driven home 12 runs, six more than he did in the Chargers' first 11 games combined.
The junior shortstop has benefited from the steady rise in on-base percentage from freshmen Dean Vitale and Matt Mangarella, who bat No. 9 and No. 1 in the order respectively.
"We made a shift in the lineup for Cody because he wasn't getting enough RBI opportunities," Spotswood coach Glenn Fredricks said. "With the way our freshmen have been hitting, I felt we could knock Cody down a peg to No. 2 in the order. With (Vitale and) Matt Mangarella getting on base, it would give Cody more chances to drive in runs."
With Joe Petosa (.395 BA, 3 HRs, 17 RBI, 22 runs) batting behind Pace (.444 BA, 3 HRs, 18 RBI, 24 runs), Pace is ensured of seeing some good pitches to hit.
"If you decide not to give anything to Cody to hit," Fredricks said, "then you wind up having to pitch to Joe Petosa."
Pace is 11-for-15 over his last four games. He was a double shy of hitting for the cycle in a mercy-rule win over Metuchen. Pace invoked the mercy-rule with a three-run walk-off homer in the bottom of the fifth.
Pace doubles as Spotswood's closer. He has four saves, three of which game during a pivotal four-game stretch of the season including a 7-6 victory over Greater Middlesex Conference White Division front-runner J.F. Kennedy.
Spotswood, owner of a 9-7 record, earned the No. 11 seed for the GMC Tournament, which begins tomorrow.
The Chargers will host the winner of today's play-in game between South River and Cardinal McCarrick in a GMCT preliminary-round game on Saturday.
With a win, Spotswood would have a rematch with sixth-seeded South Brunswick in the first round. The Vikings defeated the Chargers 5-3 earlier this year.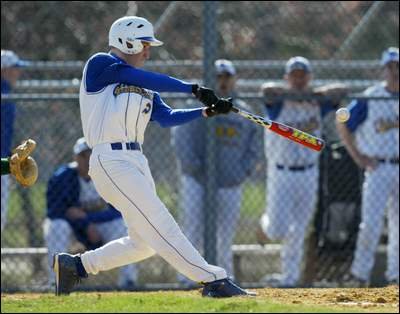 Chargers Make Plays vs. Old Rival
Joe Petosa Celebrates a 1st Inning HR With Teammates
SPOTSWOOD — A bizarre series of events in each club's final at-bat that included three controversial calls — one on a botched suicide squeeze and another on Mike Liming's spectacular home-run robbing grab — all went the Spotswood High School baseball team's way in a thrilling 7-5 comeback victory over J.F. Kennedy on Saturday.
The loss snapped a seven-game winning streak for the Mustangs (8-2), ranked No. 4 in the Home News Tribune Top 10.
After Spotswood junior Cody Pace forged a 5-5 tie with a leadoff homer to right in the home sixth, the Chargers (5-3) loaded the bases on a walk, an outfield error and an intentional pass.
Freshman Matt Mangarella was called upon to drop down a suicide squeeze on a 2-0 count, but was unable to get the bat on a fastball up and out of the strike zone. Lead runner Joe Petosa got caught in a rundown and purposely ran into infielder Chris Kornmann, who appeared to have one foot on the grass and one on the dirt about 10 feet in front of third base. Plate umpire Bill Kilduff ruled that Kornmann obstructed on the play. He awarded Petosa home, while the two other runners each advanced a base.
"At first," Petosa explained, "when the squeeze was blown I'm like, "I'm screwed,' but I've got to do something to try to make up for him blowing it. We're taught if there's a guy in the baseline, run into him, get the next base. So that's what I did. I put my head down and ran into (Kornmann)."
Before reliever Mike Vergona could make another pitch, he was called for a balk when Kilduff ruled the right-hander broke his hands before stepping off the rubber. Winning pitcher Bryan Smith scored on the balk for a 7-5 lead.
Spotswood closer Cody Pace, who pitched 3 1/3 innings to preserve a win over Middlesex on Thursday night, came on to pitch the seventh for his third save in four days. After leadoff batter Joe Marciano grounded out, designated hitter Brian Schroeder blasted a fly ball to left-center. The ball cleared the fence, but Liming jumped up, reached over the yellow home-run cap tubing and brought the ball back in play with his glove. The ball appeared to be in slow motion as it trickled out of Liming's glove, down his left arm and onto his belly while his back hit the warning track. Liming miraculously prevented the ball from touching the ground by clutching it against his body with his bare hand as he fell.
J.F. Kennedy's next two batters reached base before Jorge Rivera flew out deep to left on a 3-2 offering to end the game.
Overshadowed in the thriller was Smith's gritty outing. Making only his second start, Smith surrendered two first-inning RBI singles to Schroeder and Jason Stolz. Despite having control problems for the entire game — Smith walked five batters (one intentionally) and hit three — he did not surrender another hit until losing pitcher A.J. Pichalski's RBI triple gave the Mustangs a 5-4 lead in the sixth (Vin Vizzie, who Liming later replaced, erased Pichalski as he tried to tag from third on a fly to left). Four of the batters Smith walked or hit scored.
"When you struggle with command like that you've got to do the best job you can to limit the bleeding," Spotswood coach Glenn Fredricks said, "and our defense really stepped up for him for the first time this year."
Spotswood scored twice in the fifth with none away — once on a throwing error off cleanup batter John Relay's sacrifice bunt attempt and again on Mangarella's sacrifice fly to right — to tie the game at 4-4. The Chargers used back-to-back solo homers from Petosa and Smith to forge a 2-2 tie in the first inning.
Smith hit the first two batters of the second inning, both of whom came around to score as the Mutangs took a 4-2 lead. Rivera crossed on an infield error and Kornmann scored on Pichalski's sacrifice fly.
J.F. Kennedy coach Jerry Smith Jr. blamed the defeat on his team's inability to come through in the clutch (eight left on base) and to play solid defense (four errors), not Kilduff's controversial calls.
"Those plays didn't have an outcome on the game," he said. "We are not a team that's going to sit here and (make excuses)."
Jamie Cullen Led an Airtight Charger Defense to a Win Over #3 JFK