Announcement
HNT SPOTLIGHT: Cody Pace
More editing options
Cody Pace is going to hit no matter where he bats in the Spotswood High School baseball team's lineup.
He is simply going to drive in more runs when he's not in the leadoff spot.
Since moving to the No. 2 hole four games ago, Pace has driven home 12 runs, six more than he did in the Chargers' first 11 games combined.
The junior shortstop has benefited from the steady rise in on-base percentage from freshmen Dean Vitale and Matt Mangarella, who bat No. 9 and No. 1 in the order respectively.
"We made a shift in the lineup for Cody because he wasn't getting enough RBI opportunities," Spotswood coach Glenn Fredricks said. "With the way our freshmen have been hitting, I felt we could knock Cody down a peg to No. 2 in the order. With (Vitale and) Matt Mangarella getting on base, it would give Cody more chances to drive in runs."
With Joe Petosa (.395 BA, 3 HRs, 17 RBI, 22 runs) batting behind Pace (.444 BA, 3 HRs, 18 RBI, 24 runs), Pace is ensured of seeing some good pitches to hit.
"If you decide not to give anything to Cody to hit," Fredricks said, "then you wind up having to pitch to Joe Petosa."
Pace is 11-for-15 over his last four games. He was a double shy of hitting for the cycle in a mercy-rule win over Metuchen. Pace invoked the mercy-rule with a three-run walk-off homer in the bottom of the fifth.
Pace doubles as Spotswood's closer. He has four saves, three of which game during a pivotal four-game stretch of the season including a 7-6 victory over Greater Middlesex Conference White Division front-runner J.F. Kennedy.
Spotswood, owner of a 9-7 record, earned the No. 11 seed for the GMC Tournament, which begins tomorrow.
The Chargers will host the winner of today's play-in game between South River and Cardinal McCarrick in a GMCT preliminary-round game on Saturday.
With a win, Spotswood would have a rematch with sixth-seeded South Brunswick in the first round. The Vikings defeated the Chargers 5-3 earlier this year.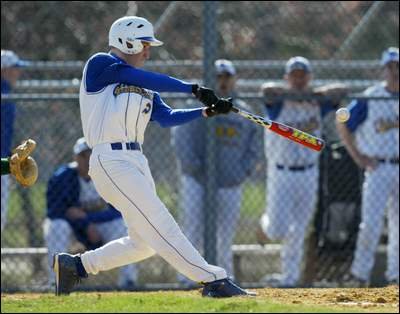 Comments
There are no comments for this announcement.