Announcement
A LOOK AHEAD TO 2010
More editing options
Busy summer session to help Chargers rebuild
BY JIMMY ALLINDER Staff Writer

Glenn Fredricks, one of the architects in the formation of the GMC Summer Baseball League — which commences play on Monday — is eager to begin the games.
That's because the Spotswood High School coach plans to use the summer season to hopefully correct the defensive miscues that contributed to the Chargers' first losing season in 15 years, with a record of 12-13.
"While everything is fresh in our minds," said Fredricks, "the coaches and players are going to put their heads together and try to remedy the defensive errors. That means changing players' positions and seeing if different combinations produce better results. Preparing for next season is one reason why this summer league will be so valuable."
The 16-team loop will compete in a month-long schedule of games. Then, on July 1, Fredricks says, the plan is to re-seed the top 12 teams and stage an elimination tournament July 6-13.
"There will be a lot of baseball condensed into the beginning of the summer," Fredricks said, "but the 16 GMC schools which have committed to playing in this league will benefit by competing together with many of the players who make up next spring's team."
Fredricks said the games will be played on the fields where the teams played their school games.
"It's going to be a great learning experience for the kids," he said. "We can't wait to put into practice some of the changes we're making to help us improve our team."
Spotswood's uncharacteristic losing seasonwas plagued by untimely errors in games that could have gone the Chargers' way had the defense held up. Leads would evaporate in the latter innings when miscues were clustered together which led to opponents opening the floodgates and scoring runs.
One other footnote to Spotswood's season: the Chargers, a Group II school, did not shy away from scheduling against larger schools, including eleven against Group IV opponents. As a means of comparison, if Spotswood had played a schedule against teams of equal size, the record could have been much better.
"As the saying goes, we will play anybody, any place at any time," Fredricks said.
Still, Fredricks hopes — make that expects— improvement over this past spring's record going into next season. And with good reason.
The Chargers return some outstanding players, some of whom will continue to play baseball beyond high school. You can start with Cody Pace, the outstanding shortstop who needs just eight hits to eclipse 100 in his career. Pace also contributed as a closer on the mound, saving six games this season to go along with a 3-0 record.
Pitching, which was woefully inexperienced before the season, will likely be a plus next year. Freshmen Anthony Berg and Chris Stout saw important action and will be counted on as starters next year. Stout's record was 0-3 but the youngster may have enjoyed the best season of any Spotswood pitcher, hurling against Freehold Township, South Brunswick and Edison, giving up four hits over five innings.
Berg saw action in seven games and sported an earned run average under 3.00 for his effort. Rounding out the staff are juniors Jeff Coy (3-0, 2.75 ERA) and Kenny Langfield.
Spotswood can also look forward to the return of two other freshmen who saw significant action this spring. Matt Mangarella played second base and hit .295 with 18 hits and enjoyed a .463 on-base percentage, while third base man Dean Vitale started every game and hit .233 with 16 runs scored.
The Chargers will miss the graduated Jon Martin and Jamie Cullen, both three-year letter winners and contributors to the pitching effort. Centerfielder Joe Petosa also graduates as the school's all-time hit leader with 135, while first baseman, Bryan Smith led the GMC in home runs with nine, to go along with his 34 RBIs.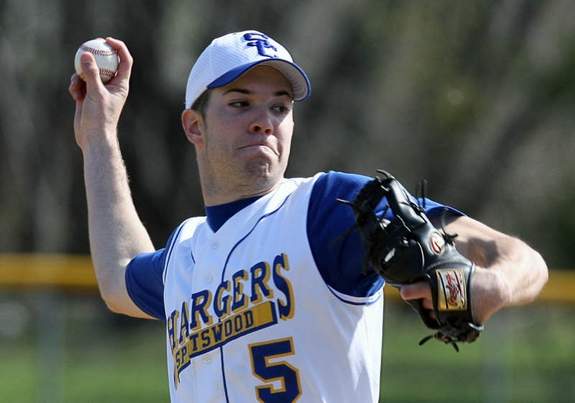 Comments
There are no comments for this announcement.