MVLL will host its 61st Closing Ceremony on Saturday, June 2 at Shoreline Athletic Fields. All players are requested to attend the ceremony in uniform, but please bring an extra shirt, as all uniforms will be turned in to your manager at the conclusion of the event (exception is T-Ball players who keep their shirts). All players should be at Shoreline no later than 11:45 am to gather with their manager and coaches for team introductions.

Closing Ceremonies will honor the Positive Coaching Award winners, the Majors, Minors and Farm Divisions champions, and all MVLL teams and players from the 2018 season. Every player will receive a trophy at the ceremony. Don't miss this final chance of the season to support MVLL.

The Snack Shack will be open. We'll fire up the bbq to grill hot dogs and hamburgers.

Our 10U, 11U, 12U, and Juniors All-Stars Teams will be announced at the ceremony.

Please arrive early, as overflow parking is limited at Shoreline. Festivities start promptly at 12 noon.

Team Managers: Remember MVLL uniforms, equipment, and keys must be returned at the Closing Ceremony.
Dick's Sporting Goods invites MVLL's families to the Baseball & Softball Appreciation Event on Friday, May 25 to Monday, May 28, 2018.
We thank Dick's Sporting Good for their strong support this season. Please plan to use the
20% off storewide coupon
at our local Dick's Sporting Goods store in
Sunnyvale
.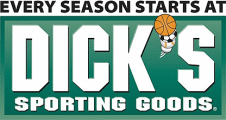 Santa Clara University's Broncos Baseball is offering MVLL families a great deal to watch a Broncos game.
This Friday on May 11th, the Broncos play the Loyola Marymount Lions. Game time is 6 PM. MVLL families can get in using the promo code
MVLL2018
for only $7.
Go to the Santa Clara Broncos Baseball
ticket website
. Choose Best Available Seats, choose Reserve, enter number of tickets, and enter the code MVLL2018 and tickets are only $7 plus a $2 service charge per ticket. This is a great opportunity for some late season team bonding.
Schott Stadium
is a great place to watch a baseball game. Depending on the number of tickets purchased using the code, they'll also do things for the MVLL players. The Broncos have a new manager and a new coaching staff. They've been recruiting a lot of local young talent. Be ready to have a great time at the game.