Mountain View Little League's player registration for the Spring 2012 season is closed.
When does the season start? Finish? a. Majors and Minors teams are announced in early February; Pioneer and T-Ball teams are announced in late February. After teams are announced, the managers organize a practice schedule. Opening Day is in early March. The final games are in late May. Minor and Major playoffs finish in early June, followed by the Closing Ceremony. The league's championship teams in the Majors and Juniors divisions compete in single-game elimination tournaments against teams within District 44. The District 44 All-Stars Tournament runs from late June into July. All-Stars teams are selected by age groups starting at age 10. (A 9 year-olds team participates in Campbell Little League's Friendship Tournament.) The All-Stars Tournament is a two-game elimination series. Champion All-Stars teams go on to Section and Region. The 11-12 All-Stars teams compete for a spot that leads to the Little League World Series in Williamsport, PA.
How often are games? When are they? How long do they last? a. These items are answered in the descriptions by division in the Frequently Asked Questions web page. T-Ball games last about an hour; other divisions play six innings or until darkness, usually about 90 minutes to two hours. Junior Division (13-14s) play 7 innings.
When are practices? a. The number and duration of practices vary by division. Please read the descriptions by division for practice information. The time and duration of practices are at the discretion of the manager. Teams other than T-Ball have 2–3 practices per week before the season starts and normally hold a weekday practice after school during the season.
Where are the games and practices? a. T-Ball games are at various local elementary schools, including Slater, Whisman, and Bubb. Pioneer games are played at Landels school. All Minors and Majors games are at either Monta Loma field or McKelvey field. When Majors have interlock games with teams from another league, games will also be played at the other league's fields. Junior Division practices are at Big McKelvey and Crittenden. Junior Division games are played against leagues within District 44 (cities include Sunnyvale, Los Altos, Cupertino, Santa Clara, and a portion of San Jose).
What equipment/uniform is needed? a. The league provides bats, balls, bases, helmets, and catcher's gear. The players should have their own glove and may bring their own bat (metal only and composite as approved by Little League International). The league provides caps and team uniform shirts. Team uniform shirts are returned at the end of the year. T-Ball players receive a tee to keep. Players in Pioneer Division and higher provide their own uniform pants, belt, and socks; plastic cleats; and protective cup. T-Ball team managers will provide information about uniform items. Junior Division players may use metal cleats.
When will uniforms be issued? When will the schedule be available? a. The league will assign Minors and Majors players to teams after all registration and tryouts have been completed in early February. T-Ball and Pioneer players are notified in mid-February. Team managers contact players when the rosters are released and will schedule practices. The games schedule will be distributed shortly thereafter. Uniform items will be distributed before the first game.
How can I help? a. The first step is to attend your child's games and cheer positively for all players and teams. Do not criticize or boo any players, managers, or umpires. Set a good example for your children and others. b. We request that all parents volunteer at least three hours of time in addition to paying their fees. There are many different ways to volunteer, ranging from coaching or umpiring to working at an event or making phone calls. Please fill out a volunteer form to indicate your preference.
What is the general philosophy of Little League?
a. The goal of Little League is to teach teamwork, sportsmanship, and fair play in addition to specific baseball skills. To meet this goal, every player plays at least 2–3 innings in every game they attend. Managers, coaches, umpires, and other volunteers strive to provide a safe and positive atmosphere for learning.
How are players placed in divisions? a. Players are generally placed according to the age they will be on April 30 (during the season). Players can play in a higher division if they have the physical, mental, and emotional capability to do so. Placement in a higher division requires league approval and may require a tryout. Occasionally, players play in a lower division if special circumstances apply.
What is T-Ball like? a. All players play in the field at all times. In each inning, all players bat once. There are no balls, strikes, or outs, and no score is kept. Batters may take as many swings as needed to cleanly hit the ball off the tee. Regardless of the play in the field, all batters are awarded first base (at least). Runners are never out on the bases; therefore all players eventually score. Coaches can stand in the field during play to instruct the players. The game is called after one hour (typically two to three "innings"). b. T-Ball is typically for children of age 4 to 6 (as of April 30).
What is Pioneer like? a. The team in the field typically plays 10 players (the usual positions plus an extra outfielder). The batting team uses a "continuous batting order" that includes all players, regardless of whether they have been in the field the previous inning. The batting team gets three outs; most normal baseball rules apply. The batter hits from a pitching machine and has up to five pitches before striking out. (There are no walks.) There are no umpires; base coaches make any necessary calls. The teams may keep score, but no standings are kept. b. Pioneer is for children of age 7 and 8 (as of April 30). Experienced 6 year olds can play Pioneer but keep in mind that the oldest player in Pioneer may be 9 years old.
What is Minors like? a. Minors is similar to Pioneer except that the pitcher pitches instead of a machine. As in Pioneer, there are 10 defensive players and there is a continuous batting order. A league umpire is present to call balls and strikes as well as plays in the field. Almost all normal baseball rules apply. In the Minors, score is kept for each game, but there are no standings, and all teams advance to the playoffs. b. Minors is typically for youth of age 9 to 12, while Majors is typically for ages 10 to 12 (as of April 30). All players must try out to be in Minors or Majors. A draft is held to balanced the teams. Players are placed according to ability, not age.
What is Majors like? a. Majors is more like regular baseball except it is played on a 60-foot baseline baseball diamond. League umpires are present to call balls and strikes as well as plays in the field. Almost all normal baseball rules apply. Players bat only if they are also in the field, but all players must get at least one at-bat and see 6 continuous outs (2 innings) as a defensive player per game. In the Majors, all scores are reported to the League, which maintains standings during the season. All Majors teams advance to the playoffs but are seeded according to regular-season standings. b. Majors is typically for ages 10 to 12 (as of April 30). All players must try out to be in the Majors, and players are placed according to ability, not age.
What is Juniors like? a. Juniors get to play on a full-size (90-foot baseline) baseball diamond to take advantage of their increased size and strength. All official baseball rules—including lead-offs, pick-offs, and balks apply. The Juniors season starts and finishes slightly later. Juniors teams play against teams from nearby leagues such as Los Altos, Sunnyvale, and Cupertino. Only the top teams advance to the playoffs. b. Juniors is for youth of age 13 and 14 (as of April 30).
After 30 years of dedication and support to Little Leagues, Mountain View's Joe Mitchner is retired. The Post Game online publication covered Joe's retirement in the article, A Special Sendoff For A Little League Lifer. The article presents highlights of his more than 30 years of coaching. Joe was recognized for his years of dedication to our league at MVLL's closing ceremonies in June . Thanks again, Joe, for everything you have done for Mountain View Little League.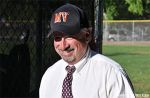 Regular Season - Individual
Regular Season - Team

1. T. Ko (Giants) 11

T2. R. Modderman (Pirates) 4

T2. E. Garcia (A's) 4

T3. A. Reelfs (A's) 3

T4. C. Hart (A's) 2

T4. C. Hurst (A's) 2

T4. K. Elpedes (Giants) 2

T4. C. Singh (Giants) 2

T4. S. Oliver (Red Sox) 2

T5. M. Higareda (A's) 1

T5. J. Valdivia (Red Sox) 1

T5. C. Homan (Red Sox) 1

T5. N. Butters (Red Sox) 1

T5. D. Colon (Pirates) 1

T5. J. Cullen (Pirates) 1

T5. A. Blakely (Pirates) 1

1. Giants 15

2. A's 12

3. Pirates 7

4. Red Sox 5

PLAYOFFS

C. Hart (A's) 2

K. Elpedes (Giants) 1

T. Ko (Giants) 1

A. Reelfs (A's) 1

M. Arce (A's) 1

M. Higareda (A's) 1

S. Oliver (Red Sox) 1

L. Pedroza (Giants) 1