Announcement
Former Falcon Richard Law goes 9 of 11 to dazzle crowd.
More editing options
Press Release 12/30/03– FOR IMMEDIATE RELEASE LAW GUNS DOWN HOME STATE TEAM AS JAGS DEFEAT MAVERICKS SOUTH ALABAMA TO PLAY UAB IN BIRMINGHAM ON SATURDAY CONTACT: Matt Smith Box Score TAMPA, Fla. - Texas native Richard Law came off the bench to score a career-high 21 points to lead South Alabama to a 56-52 win over Texas-Arlington in the consolation game of the USF Holiday Classic Tuesday night. Law connected on 9-of-11 shots from the field, including 3-of-4 from 3-point range, to give USA a split in the South Florida tourney. The Jags (5-5) return to action Saturday night in Birmingham to face in-state foe UAB. "It's probably the best I felt all year," said Law, whose previous best point total was 18 set earlier this season against Alabama State. "I was going real hard at it. Everybody stepped up and we came out with a win. Coming off Monday's loss, we wanted to come out and win again." USA's bench came up big on Tuesday. Law, Seth Miller, Henry Williams and Carlos Smith combined for 37 of USA's 56 points. The Jaguar starting five only managed 21 points, 13 coming from top scorers Chris Young (6) and Malerick Bedden (7). "Tonight, a lot of guys stepped up and made big plays," said second-year Jag coach John Pelphrey. "That's why it's a team game. The guys off the bench really came up big. Richard Law was phenomenal. He came out with great energy. His effort was championship effort tonight." Miller was the first reserve to spark the Jags. The 6-foot-5 junior guard hit back-to-back threes following a Bedden layup to highlight an 8-1 Jaguar run. The spurt turned a four-point deficit into an 11-8 lead. USA stretched the lead to 14-8 at the 11:50 mark when Law, a second-year player from Houston, knocked down the first of five first-half shots. Derrick Obasohan, who led the Mavericks with 16 points, scored back-to-back baskets to pull UTA within 14-12 with 8:32 remaining in the opening half. Law scored six more points as the half winded down to send USA into the locker room with a 30-27 halftime lead. USA finished the first half with one of its better shooting performances of the season. After shooting 36 percent in Monday's 78-67 first-round loss to host South Florida, the Jags shot an amazing 57 percent (12-21) in the opening stanza. Steven Thomas, one of three UTA players in double digit scoring figures, scored three of his 14 points to start the second half. He took a feed from teammate Roy Johnson for a layup and converted the 3-point play after getting fouled to tie the game at 30-30. It was all South Alabama after that. Bedden hit a pair of free throws to snap the tie one minute into the second half and Tamsir Ba and Law hit back-to-back buckets to increase the lead to 36-30 with 16:51 to go. UTA pulled within 36-34 on a Stephen Floyd jumper at the 15:28 mark, but Law scored four of USA's next six points to increase the margin to 42-37. The Jags led by nine, 48-39, with 10:14 left and held a comfortable margin until UTA reeled off five straight points to trim the deficit to 51-48 with 2:15 remaining. Young, who finished the night just 2-of-10 from the field, hit his biggest shot with just under two minutes showing as he drained a three from atop the key. Williams followed with a dunk to give USA a 56-48 advantage with 1:09 to go. UTA hit a pair of baskets late to make the final score more respectable. NOTES: USA improved to 5-0 all-time against the Mavericks...Law was named to the all-tournament team following his 21-point effort vs. UTA...UNO and USF met in the tournament championship game. TEXAS-ARLINGTON (4-5) Obasohan 7-18 2-3 16, Thomas 5-10 4-5 14, Johnson 2-7 1-2 5, Floyd 6-14 0-0 15, Howell, K. 1-3 0-0 2, Howell, J. 0-1 0-0 0, Dawkins 0-0 0-0 0, Hairfield 0-2 0-0 0, Henderson 0-2 0-0 0. Totals: 21-57 7-10 52. SOUTH ALABAMA (5-5) Phillips 1-4 0-0 2, Bedden 2-2 2-2 7, Ba 2-5 0-0 4, Spencer 0-2 0-0 0, Young 2-10 0-0 6, Smith 1-3 0-0 2, Miller 3-6 0-0 8, Law 9-11 0-1 21, Williams 3-5 0-2 6. Totals: 23-48 2-5 56. Halftime - South Alabama 30, Texas-Arlington 27. 3-Point Goals - Texas-Arlington 3-13 (Floyd 3-9, Obasohan 0-2, Hairfield 0-1, Henderson 0-1), South Alabama 8-21 (Law 3-4, Young 2-8, Miller 2-5, Bedden 1-1, Phillips 0-1, Spencer 0-1). Fouled Out: Bedden. Rebounds - Texas-Arlington 36 (Obasohan 8), South Alabama 29 (Law 6). Assists - Texas-Arlington 13 (Johnson, Floyd 3), South Alabama 14 (Smith 6). Total Fouls - Texas-Arlington 9, South Alabama 15. A - N/A.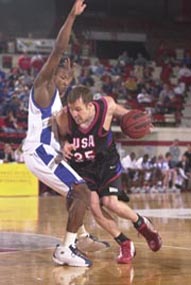 Comments
There are no comments for this announcement.