Announcement
The Girls Softball League - Pitching In !
More editing options
Here is J.R. Nocerino and several youngsters from the Forest Hills Girls Softball League pitching in and doing their part in grooming the fields for play. Unfortunately, several inches of rain has soaked all of the fields during the end of May and beginning of June creating schedule conflicts and field assignment nightmares. The FHLL would like to thank the many players, coaches and parents for volunteering their efforts grooming the Fleet Street fields for play.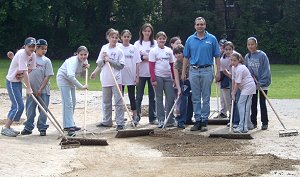 Comments
There are no comments for this announcement.
COMMUNITY REMEMBERS TEPPER - FIELD DAY