Announcement
Pioneer Beats Huron for 2006 State Title!!!
Posted by
Paul Gard
on Nov 07 2006 at 04:00PM PST
More editing options
Pioneer wins classic duel. Robinson's goal off last-moment corner opportunity decides it. (From the AA News)
Pioneer defeated Huron 2-1 Saturday in the high school field hockey state final in a game characteristic of how closely the teams played all season. After two regular-season meetings were determined by a total of one goal, they played through one scoreless half Saturday before Zoe Almquist converted a corner 2 minutes, 21 seconds into the second half. Huron nearly tied the game six minutes later after Anne Heeringa had a shot near the Pioneer goal and the rebound was corralled, resulting in close-range shots and a pile of bodies. But seconds later the ball squirted out of the circle. Then Huron's Kit Masini did tie the game with 3:11 left, pulling the ball out of a crowd and firing for a goal. Action continued until just two seconds were left in the match, said time keeper Chris Sanders, when Huron was called for a penalty. That gave Pioneer a final corner opportunity before the match moved to overtime. After the ball bounced around in a crowd, evading Huron sticks, Janna Robinson squeaked it inside the post for the game-winner. "I think it hit the goalie or the post,'' Robinson said of how the ball ended up on her stick. "I'm not sure. It was crazy in there.'' One thing is for sure - the ball came from Eileen Barrer who said she thought it went directly to Robinson. "Both teams just came out and played an amazing game,'' Robinson said. "I'm just pretty glad we didn't have to go into overtime. "In the last seconds, in our last corner, it was so scary.'' Added Huron coach Danielle Stilson: "We couldn't ask for a better team to play against in the state championship. I think both teams played with a lot of aggression, a lot of heart. "I think it was an amazing game.'' Although Huron controlled the ball as much as Pioneer and had several corner opportunities, the breakaway chances that swung the River Rats' semifinal victory Thursday didn't seem to be there against Pioneer.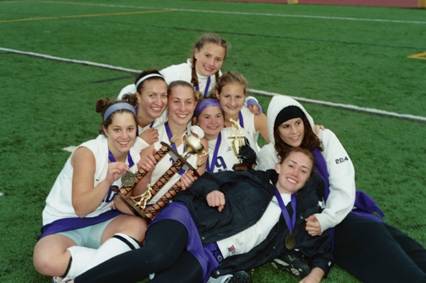 Comments
There are no comments for this announcement.