Announcement
KingCo Tournament: Lady Falcons Secure Berth to State with 11-1 Run Rule Win Over Newport
Posted by
Rob OFarrell
on May 19 2014 at 05:00PM PDT in 2019 JV
More editing options
Our Lady Falcons were ready to roll once again with a berth to 4A State on the line vs Newport last night in the semi-finals of the KingCo Tournament. Once again we had Olivia Riener on the mound packing more heat and more confidence in herself and her teammates to get it done.
Though Newport was laser focused on the same goal and put up a quick run on a home-run in the 2nd inning to lead 1-0. What they didn't know is that would be the first of only two hits on the night due to some great pitching & defense by Woodinville as they unleashed a torrent of offense at them starting in the 3rd inning.
Starting off with back to back walks by Lauryn Rhinehart and Nicole Shavlik, junior Alena Jones came up and put down a perfect bunt base hit to load the bases for Alyssa O'Farrell who smashed a 2 RBI line drive to right center to put the Lady Falcons up 2-1. Kathryn Hatlen then walked and Olivia helped herself by drilling a 2RBI to right to increase the lead to 4-1. Senior Maggie Loyet kept the roll on with an RBI single up the middle followed by an RBI by Jordan Boyd and when the inning was finally over for Newport the Lady Falcons were up 6-1. Newport just had the wind knocked out of them. And in a game totally driven by momentum our girls were riding it high knowing they had Newport on the ropes and a 4th 4A State berth awaiting a knockout blow.
They wasted no time on defense by flying all over the diamond fielding a bunt attempt at third by Lauryn, diving for a fly ball by Alena and snapping off a strikeout by Olivia. Back in with bats in our hands and more punishment in the 4th when Nicole leads off with a walk and a stolen base and Alena ropes a ball to short and forces an errant throw to score Nicole. Oilvia gets her third RBI of the night with a single to right scoring Alena. Tori Lettus wanted in on the offense as well so she smashed an RBI double to left followed by Maggie's second RBI of the night with a single up the middle. When the whirlwind of green and blue circling the bases was over it was 10-1 and our Lady Falcons were smelling another mercy run-rule.
With plenty of experience in the dugout of State championships (2005 & 2012) with teammates, ex-teammates and coaches, they understood how important it is to put the game away when you have the chance. Especially in a semi-final KingCo tournament game with a berth to State and a 5th in-a-row KingCo Title shot on the line.
So for the third time in the game we started the 5th inning with our leadoff Nicole getting on base with a walk and then a perfect sacrifice bunt by Alena followed by a hit by Alyssa up comes Kathryn. In a statement, Kathryn hit one of the hardest balls even seen hit at Inglemoor to score Alena and end the game with a 10-run mercy win.
Not to be overlooked was again the fantastic performance of the Freshman duo of Olivia on the mound and Jordan behind the dish simply locking it down all night.
Now... with a 4A State berth secured, ... with the Woodinville High School Fastpitch tradition of expected excellence carrying and defining them, ... led by a few who have been taught, lived, succeeded and whom understand the path to goal now surrounded by an amazingly talented young group of players, these 2014 Lady Falcons focus on a KingCo Championship for the 5th year in a row, 8 in the past 9 years, on Thursday vs Redmond, ... then on to State ... finishing their chapter...finishing it their way.
Game time 7pm at Inglemoor...come out and cheer them on!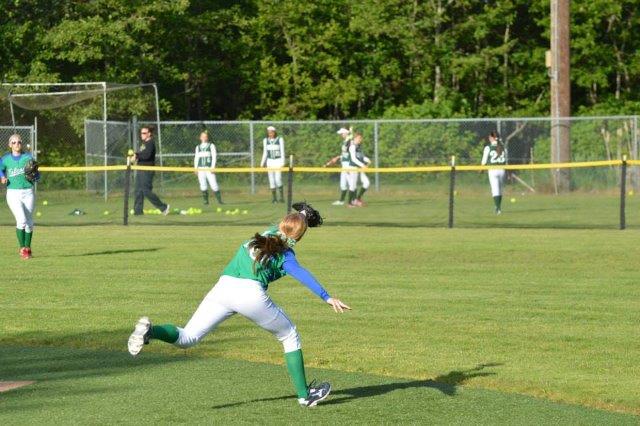 Comments
There are no comments for this announcement.