Announcement
MONUMENTAL PITCHERS DUEL ON TAP?
More editing options
STAFF REPORT The heavy rains that washed away Wednesday's Greater Middlesex Conference Baseball Tournament quarterfinals may have created a high school pitching matchup for the ages in the process. Had the game between Spotswood and South Amboy been played on Wednesday, only Chargers' coach Glenn Fredricks knows for certain whether he would have thrown ace Willie Beard on three days rest or No. 2 starter Mike Hohman, in whom he has an equal amount of confidence. "Would you have seen Mikey today or Willie today?" Fredricks said after his game was rained out, "nobody is every going to know that. You will never ever know that. However, things change tonight for tomorrow night a little bit due to the weather." South Amboy coach Dennis Bourgeau has maintained all along that ace Brian Seres, the GMC's strikeout leader, would pitch against the top-ranked Chargers. Seres will definitely take the mound tonight at 7 p.m. at Grekorski Park. "With Willie on full rest and knowing that they have Seres on full rest with the rain, you'd be hard-pressed to see anything else but Willie (tonight)," Fredricks said. "However, our staff is very deep this year and anything is possible." The Rutgers University-bound Beard, who is the hardest thrower in the conference, may face Seres, who has the nastiest curveball in the league. Beard has fanned 70 batters in 56 innings and boasts a 1.93 ERA. He owns a 7-1 record including two no-hitters and a one-hitter. Seres is 6-0 on the year with 82 strikeouts in 34 innings and a 1.44 ERA. He has fanned 16 batters three times this season. The way Spotswood has been hitting — averaging more than 15 hits per game over the last nine outings including a season-high 17 against Monroe — it may not matter who is pitching tonight. The South Amboy-Spotswood winner will advance to Saturday' semifinals against the winner of the other quarterfinal being played at 4 p.m. today at Grekorski Park between J.F. Kennedy and Perth Amboy. The other half of the bracket will be contested at Memorial Stadium in New Brunswick. St. Joseph will face Carteret and South Brunswick will meet J.P. Stevens at 4 p.m. and 7 p.m., respectively.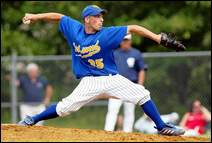 Comments
There are no comments for this announcement.