Announcement
Spikes 13U Team Win World Series Championship in Michigan !!!
More editing options
The 13-U Southern Indiana Spikes traveled to Lansing MI. July 21-25 to play in the Baseball Players Association World Series. A total of 33 teams competed in the double elimination format.
Wednesday's events opened with a skills competition among all players. Spike's Cordell Miller and C.J. Rowe placed 5th & 7th respectively in the catchers accuracy throw. Tyler Ward placed third in the home run derby. In the around the horn competition, Nick Waninger, Gavin Schaefer, Dylan Ritter and Tyler Ward tied for 4th place. Opening ceremonies then continued at Michigan State University Baseball Complex.
Play started at 8AM Thursday morning with the Spikes taking on Lakeshore (MI.) Lightning, defeating them 11-4. Then the 2nd game of the day at noon pitted them against the Triple Crown Knight's from Gary IN. An 11-1 Spikes win was the result. Friday's game saw the Spikes play the Piqua Indians. A team from North of Dayton Ohio. Once again, the Spikes were victorious with a 10-3 win.
Saturday came with a 6 hour rain delay, temperatures in the low to mid 80's, and great baseball playing weather. Their lone game that day was against the number two ranked team in Michigan, the Niles Sluggers. Playing their best baseball to date, the Spikes pulled away with another 11-1 victory. This victory put the Spikes into the final four of the winner's bracket.
Indiana Nitroz, based out of Gary, was their next opponent on Sunday morning. With an identical 11-1 win, they moved into their last game against the only remaining undefeated team, the Saginaw Bay (MI) Riverdawgs. 5 innings was all that was needed to shut down the Riverdawgs, 12-2.
Onto the Championship game verses the Georgia State Champions, East Cobb Lightning, who came all the way through the loser's bracket after a first round loss. The Spikes had exceptional pitching and hitting leading them to a 10-1 victory and a World Series Championship ring for each player. Cole Womack and Jacob Brewer were named to the all tournament team.
The 13-U Southern Indiana Spikes finished their season 36-4. In the 7 tournaments they competed in this summer they ended with 5 first place and 2 runners up trophies. This makes two consecutive titles and their third over all B.P.A. World Series Titles for this team.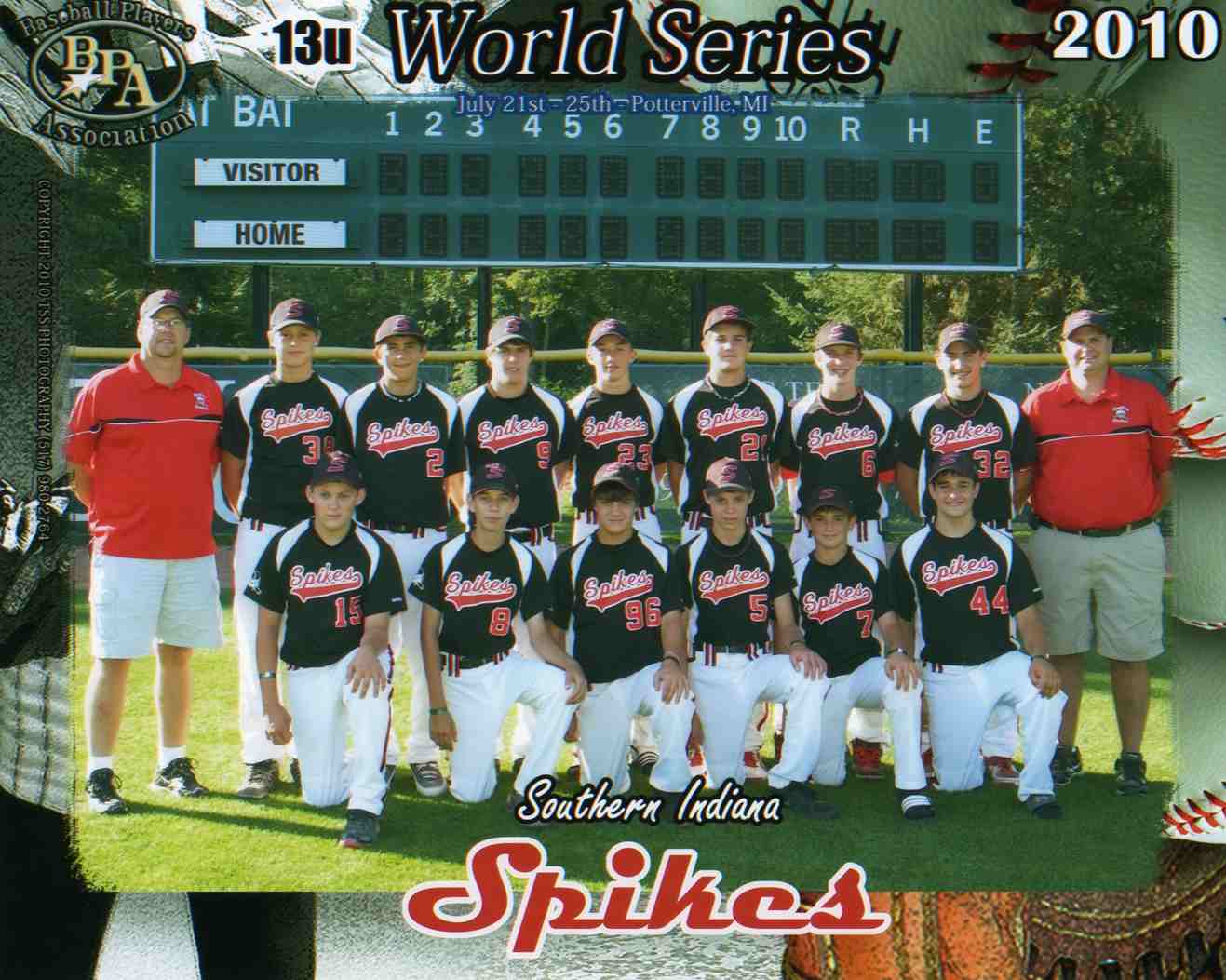 Comments
There are no comments for this announcement.