Attached below are the results of the Arrowhead Cup for the 2015 - 2016 season.
Due to the unprecedented demand, the Duluth West Yellowstone trip will be taking 3 coach buses this year. We have seats left and in order to fill the 3rd bus with as many as possible we are waving the late fee. Please get your forms in ASAP.

Interested athletes and their families are all welcome to attend the 2015 DXC Summer Juniors program informational meeting on Wednesday, May 6 at 6:30 in the mezzanine at Duluth East High School, 301 N 40th Ave E, Duluth, MN  55804.



DXC Summer Juniors is a summer Nordic skiing training program for all area skiers ages 13-19. Improve your endurance, strength and ski technique by training with other Duluth-area skiers under the direction of experienced coaches.   



Click here for details on this year's program.



I look forward to seeing you at the meeting.



Jason Kask
Program Director, DXC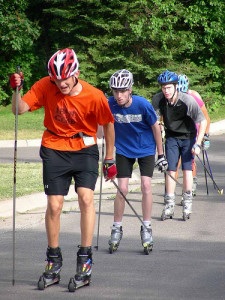 2014 West Yellowstone Ski Trip
Update
Hello Skiers,
The West Yellowstone trip is filling up fast! Get your trip reservation in quickly, this weekend would be great. If you are having trouble getting your down payment together call Bonnie and make arrangements!
Other important dates:
Tuesday, October 28 - 3:30 in the East HS Media Center - Nordic Ski Team Information Meeting - Get all the information and form for the Nordic Ski Team!
Monday, November 3 - 7:00 p.m. in teh East HS Media Center - Nordic Ski Team Parents Information Meeting - Parents, get the scoup on the ski team and turn in all the forms and $$$.
Friday, November 7 - 5:00 p.m - 8:00 p.m. Snowflake Nordic Ski Swap equipment check-in.
Saturday, November 8 - 9:00 a.m. - Noon - Snowflake Nordic Ski Swap
Monday, November 10 - 4:00 p.m. First team practice at Snowflake