Announcement
Integration
Posted by
John Jofre
on Mar 20 2006 at 04:00PM PST
More editing options
Every Child deserves a Chance – Schools for Migrant Workers' Children
Who are Shanghai's migrant workers' children?
They are children whose parents come from other provinces to look for work in the big city of Shanghai. They have often no way of leaving their children in the care of relatives in their hometowns and villages and so they bring them to Shanghai.
Why don't they go to the municipal schools?
In China, not all children living in the cities can attend municipal schools free of charge. In Shanghai, municipal schools are only free for the children who are registered as permanent residents and have the Shanghai "HuKou" (However, books and lunch fees are not free). There are also simply not enough municipal schools to accommodate the ca. 320,000 migrant workers' children living in Shanghai.
What are migrant schools?
These schools are private initiatives aiming at providing migrant workers' children with an education. As privately run schools they do only receive very little financial support from the government and have to ask for school fees in order to cover their expenses. Typically, the fee for one semester at such a school would be around RMB 500 – 600, with lunch fees and books included in this figure.
How does Integration help?
We collect donations and pay the school fees for 79 children at present. Working closely together with both the principals of five migrant schools that provide a good level of education and the Education Commission of the respective districts, we sponsor children whose families' monthly income is RMB 500 or less. These children deserve an education – we can give them this chance!
Who are the people behind Integration?
We are a group of currently 11 ladies from China, France and Germany. All members of our team work for Integration on a voluntary basis, there is no 'overhead' nor office nor salaries…just a private group of people who think that each child should be given the chance to get primary education. We get a lot of support from the German Chamber of Commerce, both financial and in terms of PR: they graciously host our project on their website: http://www.china.ahk.de/chamber/shanghai/charity/ In 1998, Dr. Sabine Rudischhauser started this project together with some friends after noticing children running about on the streets of Shanghai at a time when they should have been at school. Her inquiries with Chinese friends alerted her to the problems migrant workers face when coming to the big cities and she decided to do something about the fundamental aspect of their children's education. From this idea over the past 8 years Project Integration has grown to the above mentioned 79 students supported in this semester (Jan.-Jun. 2006), a number we are planning to enlarge to 100 students by next semester, thanks to the ever increasing support from our donors, both private and organizational! We will gladly answer any additional questions you have. Simply e-mail to: projectintegration@yahoo.de Thank you for caring.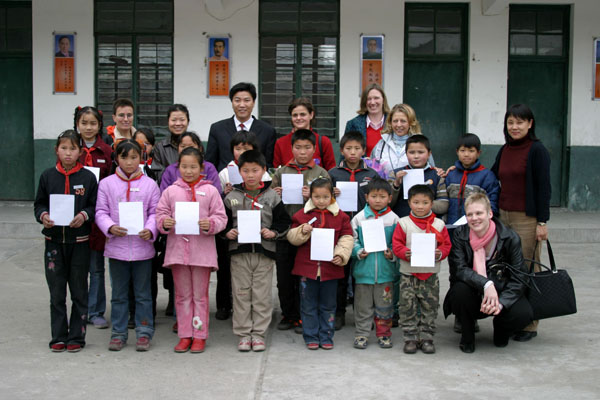 Comments
There are no comments for this announcement.