Announcement
Harvard-Bound Scott Elliott Looks to Leave Lasting Legacy at Holliston
More editing options
By Matt Feld, Boston Herald News Correspondent
Todd Kiley has manned the sideline for 16 years at Holliston, but it doesn't take long for him to choose the best lineman of his time on the job.
"From a lineman standpoint, there is no one better than Scott Elliott in my years here," said Kiley. "I put him up there with the best players that have ever played in this program."
From the early going, Elliott believed he had a future in football. He will continue to play next year at Harvard.
Elliott was consistently the biggest and most physically gifted youth on his Holliston Pop Warner teams.
In his early years, Elliott's teammates were often a year or two older as he was forced to play a year up in an effort to balance the size advantage. Once he began playing with players his age, however, Elliott gained even more attention.
"I was always the biggest kid on the line," he said. "I had to stop playing Pop Warner because of the weight limit during a couple of years. I always played with kids older than me, but once I got to play with my grade I stood out that much more."
Elliott became an invaluable member of the Holliston program the moment he stepped on the field. Along with his size, he enamored coaches with his steady approach, constantly spending his summer days on the football field training for the upcoming season.
A four-year varsity starter, Elliott helped the Panthers to a Super Bowl title as a freshman starter for every game at defensive tackle.
"I tried to not let it get to my head," he said. "You win your first year, it can be pretty amazing. But I just tried to stay level-headed and get right back to work."
In his sophomore and junior campaigns, Elliott's profile began to grow. Last season he exhibited greater versatility, appearing not only at defensive tackle, but also at offensive guard and occasionally tight end.
By the time the 6-foot-3, 270-pound lineman finished his third season in high school, he was regularly receiving phone calls and visits from some of the top colleges in the region.
Ultimately, Elliott decided on Harvard, committing this summer following numerous talks with the coaching staff and a trip to the Crimson's camp.
"Harvard is Harvard," said Elliott. "They did a great job keeping in touch with me, taking care of me, and contacting my family. Over the summer I went to their camp, met the players, and knew right away that it was time to commit."
Now with his commitment behind him, Elliott is focused on putting the finishing touches on his football legacy during his senior season in high school, hoping to book-end his career with state championships.
"That's the ultimate goal, but you just try and take it week-to-week," said Elliott. "We're just going to try and keep the same pace. You tell the younger guys how if you just win week-to-week your goals will pile up, and you'll get there."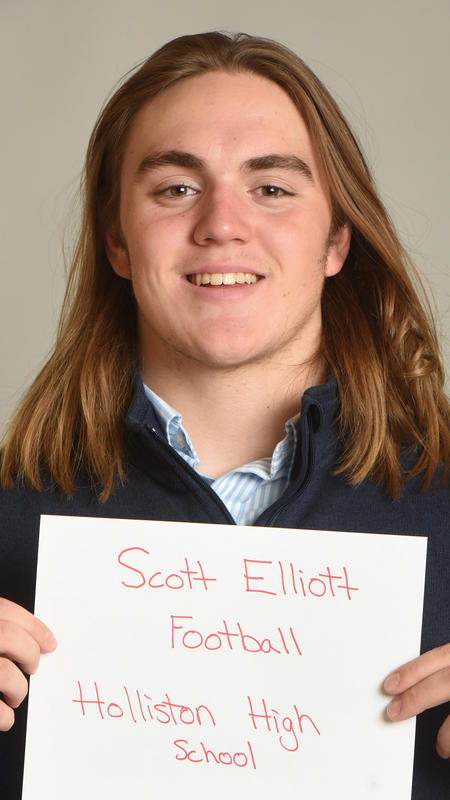 Comments
There are no comments for this announcement.