Announcement
Bombers Advance to Championship Game
More editing options
Bombers Advance to Championship Game!
Today at Buljan Park, the Mighty Bombers were taking on the Padres in a semifinal match-up to see who would advance to the championship game on Saturday, at Richard`s Field. The game didn`t take long to get the action rolling. In the top of the first inning, the Clergy Boys banged out 6 hits and put up 4 runs, only to see the Yanks battle back in their half of the inning and score 5 runs on 5 hits. With the score tied 5-5 in the forth, the Boys in Pinstripes knew they had to get something going, and going fast, if they were going to move on to the championship game. The Bombers blasted out 6 consectitve hits, and put up another 5 run inning that sealed the deal. Andrei (The Big Cat) Buado led the Yankee hitting assault going 2-2 with a triple and a double. Other Yankees getting in on the 14 hit bombardment were: Terrence (T-Bone) Berg 3-3; Ramon (Mad Dog) Esparza III 1-2; Parker (The Real Deal) True 1-2; Kyle (The Great Santini) Santin 2-2; Jake (The Snake) Peralta 1-1; Hayden (H) Mitchell 2-2,2b; Zach (Scooter) Berry 1-1; and Jackson (Ajax) Shedd 1-2. This game saw all 12 Yankees contribute to the victory as Nick (One Eyed Willy) and Ryan (Pocket Rhino) Sancedo had huge groundouts that knocked in critical Yankee runs. Spencer (The Road Runner) Floyd worked his magic again, drawing 2 walks and scored one of the final 2 runs that put the game in the books. Yankee hurlers` The Great Santini and The Big Cat rebounded after a rough first inning and held the Padres to 2 runs over the next four innings. The Yankee defense also played a pivotal role in the outcome of the game. Fantasic defensive plays were made by Mad dog, Pocket Rhino, Scooter, The Big Cat, and H.
With the 12-6 victory the Mighty Bombers move on to the Championship game.
Player of the game: Andrei (The Big Cat) Buado
Defensive Gem: Hayden (H) Mitchell
Hustle down the line: Hayden (H) Mitchell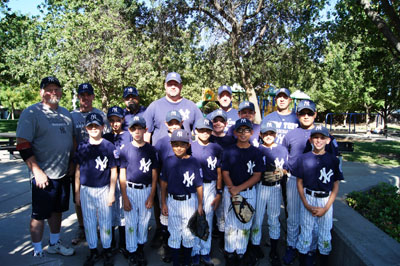 Comments
There are no comments for this announcement.