Announcement
The Road Runner Eyes Yankees Win
More editing options
The Road Runner`s Eyes Seal Yankees Comeback Victory.
Today`s match-up at Buljan Park saw the Mighty Bombers going against a streaking Cardinal Team. The Red Birds jumped out to an early 2-0 lead and it stayed that way until the bottom of the 5th inning. The bottom half of the 5th was when the Boys in pinstripes decided to make their last stand. Spencer (The Road Runner) Floyd`s hawk like vision that gives gives him the uncanny ability to seperate stikes from balls drew his league leading 15th walk. That walk forced in Jackson (Ajax) Shedd with the go ahead run. Nick (One Eyed Willy) Lake stole home a pitch later, sealing the comeback in stone. Yankee Pitchers Adrei (The Big Cat) Buado; Parker (The Real Deal) True and the magic man himself; Kyle (The Great Santini) Santin (game ball) did a great job of shutting the Red Birds down, allowing only one run after the first inning. Zach (Scooter) Berry kept his torrid hitting streak alive and started the House of Cards crumblization. Other Yankee hitters bringin` the lumber were: Terrence (T-Bone) Berg 1-2; The Real Deal 1-2; The Great Santini 1-2; Jake (The Snake) Peralta1-2 and One Eyed Willy 2-2. Ramon (Mad Dog) Esparza III had a ten pitch at bat that signaled the end for the Red Bird starter. Defensive gems were turned in by; T-Bone, Scooter and Hayden (H) Mitchell.
With the victory the Bombers move to an incredible 11-2
Game ball : Kyle Santin
Defensive Gem : Hayden Mitchell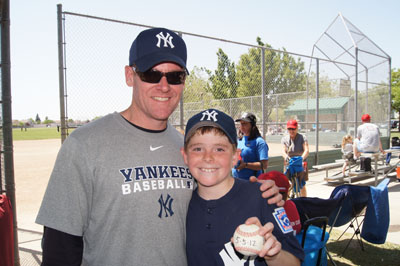 Comments
There are no comments for this announcement.