Announcement
Big Cat`s Walk Off Blast Terrorizes Tribe
More editing options
Big Cat`s Walk Off Blast Terrorizes Tribe
Tonight the Boys in Pinstripes faced off against the Indians, hoping to even the season series. The Yankees knew they would be in close battle squaring off with former Yankee strongman Brock (The Rock) Hearl. Andrei (The Big Cat) Buado and Kyle (The Great Santini) Santin threw the best game of the season for the Yanks, allowing only 3 hits while strikingout 6 in a 61 pitch shutout. The Mighty Bombers continued their assault on league pitching, banging out 9 hits. The Big Cat (2-3, 2b, HR) ; ended the game with a walk off three run missle blast that sent shivers down the spine of the crowd. Other Yankee who contributed to the attack were: Ramon (Mad Dog) Esparza III 1-2; Parker (The Real Deal) True 2-3,2b; Jake (The Snake) Peralta 1-2 Zach (Scooter) Berry 2-2. Jackson (Ajax) Shedd laid down a beautiful sacrafice bunt and played stellar defense behind the plate. Hayden (H) Mitchell, Nick (One Eyed Willy) Lake, Ryan (Pocket Rhino) Sancedo and Spencer (The Road Runner) Floyd (Player of the Game) also contributed by playing outstanding defense.
With this outstanding team effort the Mighty Bombers move to 10-2
The Yankee Organization would like to throw out a special thanks to the Road Runner, Spencer Floyd. The Road Runner is a leader in the club house and on the field, always working hard to get better and having a positve attitude, which rubs off on his team mates. At the start of the game The Road runner was third on the team in on base percentage with an unbelievable .636. WOW!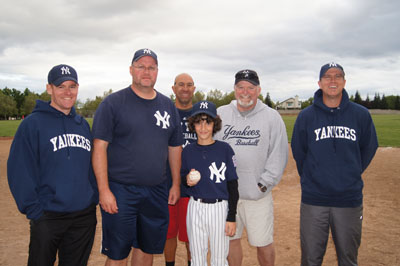 Comments
There are no comments for this announcement.