Announcement
Yanks Drop HHHammer on G-men
More editing options
Yanks drop HHHammer on G-men
The Roseville bomb squad recieved a call last night about possible explosions being set off at Richard`s Field. After arriving, they soon realized that the loud booms were only baseballs leaving The Mighty Bombers bats. The Bombers faced off against a fierce Giant pitching staff and one of the top defensive units in the league. The Yankee hitters continued their torrid hitting attack, matching a season high, banging out 15 hits. Terrenece (T-Bone) Berg set the pace going 3-3. Blasts by; Andrei (The Big Cat) Buado 2-2,2b, Jake (The Snake) Peralta1-3, 3b and Hayden (H stands for Hammer) Mitchell (Player of the Game) 2-2; smoking line drives by: Parker (The Real Deal) True 2-2,2b; Kyle (The Great Santini) Santin 2-3; Jackson (Ajax) Shedd 1-2, Nick (One Eyed Willy) Lake 1-2; Ryan (Pocket Rhino) Sancedo 1-2 were to much for the G-men as the fell victim to the Boys in pinstripes 11-4. Spencer (The Road Runner) Floyd continued his record setting pace by recording his 11th and 12th walks of the season. Yankees Pitchers; The Real Deal and The Snake threw spectacularly holding the Giants to 4 runs, while striking out 6.
With the victory The Bombers move to 7-2
The Yankee Organization would like to throw out a special thanks to long time Yankee verteran; Hayden (H, stands for Hammer) Mitchell. Hayden proves that when you can control your emotions and have a good attitude it`s bombs away.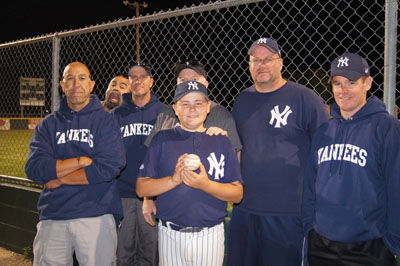 Comments
There are no comments for this announcement.