Announcement
TOMMY SCOTT
More editing options
Tommy has been playing soccer for over 12 years. He has been keeper for Team Dayton, kicker for the Miamisburg High School Varsity Football Team and played Intramural Basketball at the high school. He works at Cold Stone Creamery and is a member of the St. Henry Parish. He plans to attend college and major in Biology or Chemistry and possibly participate in sports. His favorite soccer memory is: "Coach Detmer's monkey face, Aaron Seavers' Saturday morning stories and getting their own MHS soccer field in 2005". His parents are Tom and Ann Scott.

Tommy will be playing his spring soccer with Team Dayton Blue.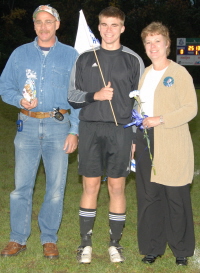 Comments
There are no comments for this announcement.