West Monroe 44 Airline 14
Great win for the Rebels! The Rebels rolled up 482 yards on offense and held Airline to very few yards when the starters were in. The Rebs started strong and could have scored many more points.
Way to Go Rebs!
I am updating to a new site! I'll keep this one, but just need to have better features!
http://www.hometeamsonline.com/teams/default.asp?u=WMREBS&s=football&p=home
This is password protect!
West Monroe vs Barbe
West Monroe travels to the swamps to take on Barbe in a non district game that will have a playoff atmosphere.
Barbe is averaging about 46 points per game on offense and are ranked #1 in the 5-A Polls.
They are projecting about 4 inches of rain so be sure to take your pirogues.
Go Rebs!
West Monroe 41 Hammond 13
West Monroe showed that they can play a complete game with a dominating win over Hammond.
The Rebels were led by Steven Jones who had over 150 yards and 2 TD's.
The DeFense was also very dominate and the stats does not tell the true picture.
John Randall Belton started at QB and had no problem getting the Rebels a going.
The Rebels played just about every player they could in this one.
It was good to see Colby Lee back in action at QB!
Jake Norris also got to see some action at the Varsity level at QB!
Way to Go Rebs!
Madison Central 28 West Monroe 27 in OT
What a game! West Monroe had almost 400 yards of offense, a 90 yard TD pass from Belton to Hoogland and an amazing KO return by Quez Splond, but could not pull out the win in overtime.
All photos and information on our site is the property of RebelYellSports.net!
Images and Text Protected! All rights Reserved!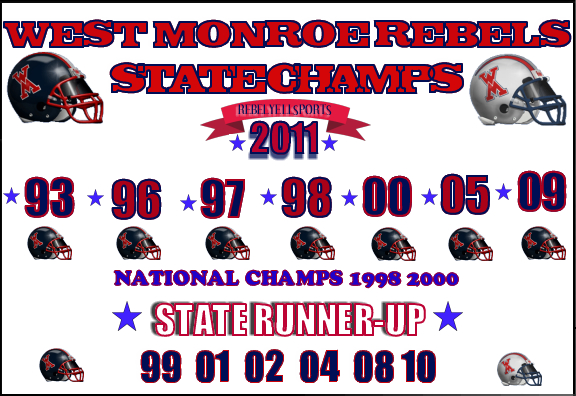 1993 West Monroe 21 Destrehan 18
1996 West Monroe 24 Carencro 21
1997 West Monroe 22 Shaw 19
1998 West Monroe 32 Ruston 14 National Champs
2000 West Monroe 35 Shaw 7 National Champs
2005 West Monroe 28 Acadiana 7
2009 West Monroe 30 Rummel 0
2011 West Monroe 21 Carencro 13
1993 Most Rushing Attempts 38 Bobby Breen
2005 Most Interceptions 3 Scott Love
2000 Most Punt Returns and Yards 8-185 Demario Taylor
1993 Most Rushing Attempts 70
1993 Most Rushing First Downs 20
1998 Most Rushing Yards 348
1998 Most Rushing TD's 5
2002 Most Kickoff Returns 7
2002 Most Penalties/Yards 14-124
1997 Most Fumbles 7
1997 Most Fumbles Lost 5
2009 Longest Rushing TD Paul Turner 86 Yards
1996 Tommy Banks/ Kenny Robinson 1998/ Jarrell Johnson 2000/ Frank Goodin 2005 Most Rushing TD's 3
2011 Longest Field Goal Beau Benson 46 Yards Broke Drew Alleman's Record of 42.
2000 Most Extra Points 5 Lee Deal
Most Points 18 Tommy Banks 1996/Kenny Robinson 1998/Jarrell Johnson 2000/Frank Goodin 2005.
DeFense
2002 Fewest Rushing Attempts Allowed 17
2003/2009 Fewest Rushing Attempts 3
1998 Fewest Rushing Yards 42
2001/2005 Most Pass Interceptions 4
2004 Fewest Total Plays Allowed 34
1998 Fewest Total Yards Allowed 103
1998 Lowest Average Per Play Allowed 2.5
1998 Fewest First Downs Allowed 7
2009 Fewest Points Allowed 0
1999 Evangel 20 West Monroe 14
2001 Evangel 34 West Monroe 27
2002 Evangel 34 West Monroe 4
2004 Evangel 21 West Monroe 20
2008 Destrehan 14 West Monroe 3
2010 Acadiana 21 West Monroe 14
What a game by the entire Rebel team! The Rebels only had a 3-0 lead at halftime, but poured it on in the 2nd half.
The Rebels had almost 300 yards of offense. Michael Mims connected with Segrick Williams for a 57 yard TD.
Michael also had a 6 yard TD run. Segrick Williams also scored a TD run.
Zach Alexander had a 47 yard Field Goal.
The DeFense shut down a potent Acadiana offense that was scoring 37 ponits per game to 0.
Way to go Rebs!