Four minutes into the game, COURTNEY CLEAVES' dribbling run down the sideline and flick pass to a streaking DELCIE THANKACHAN easily beat the keeper 1v1 and had the Cougars up 1-0 against a senior laden and powerful West Hills team. But like a heavyweight champion stunned from a counter punch, West Hills evened the score less then 2 minutes later. The Cougars played even and had quality opportunities to score throughout the 1st half, but weren't able to find the net. After making numerous dives to stop West Hills, Freshman keeper CARMEN URIBE misjudged a ball from a West Hills direct kick that slipped through her hands at the 38th minute to send West Hills into halftime up 2-1. Quickly in the second half, the Cougars realized that a win was not to be, as the Cougar's other talented Freshman Keeper SUMMER BLAND failed to catch balls that gave the West Hills forwards easy second chances that they converted for goals and left the Cougars stunned. Despite the final score, Coach Cleaves stated, "CARMEN and SUMMER have been incredible this year, and are a big reason for our success. They will learn from this game, and be better for it. West Hills with all of those seniors are of the best teams in the County, people will see the score, and say we were over matched, but we know better, with CARMEN and SUMMER at their best, this game is 1-1!" The loss was the first in the county for the Cougars. Next up Helix and League play.
The Cougars moved to 2-0 in Varsity play, and 10-2-1 overall with an impressive 8-0 win over Guajome Park Varsity. The game was full of many highlights including SARAH DIEM's brilliant header goal in the 17th minute. The goal which would make any highlight reel highlighted a well balanced attack in which six different Cougars scored! The game also marked the first appearance of Goalkeeper JESSI BRUCE's as a field player, and in the 78th minute JESSI's long run was rewarded with a beautiful pass from REBECCA SANDERS that JESSI knocked in for the final goal! Next up Santana High!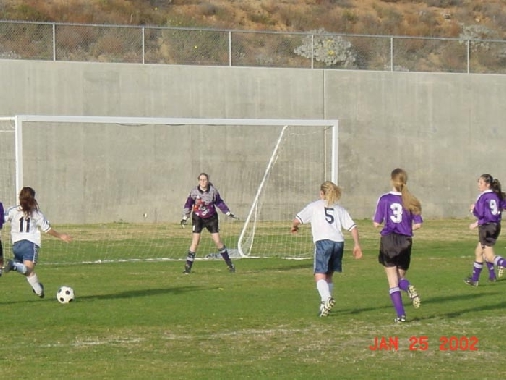 The Cougars continued their winning ways winning 2-1 over Grossmont at the Steele Canyon Girls Soccer Complex. LISA MIX and SARAH DIEM scored in the first half to give the Cougars all the goals that they would need and it went to hold off Grossmont's comeback bid late in the game. The key to the game was the incredible midfield play of TAHNEE FRANCEL, MEGAN VARNEY and DANI MORGAN who dominated the midfield and led the Cougar attack. Next up Guajome Park.
In an epic game of two great teams, the Cougars beat Valhalla @ Valhalla 1-0 in front of approximately 300 fans and supporters. EMELY RODRIGUEZ's goal in the 60th minute ended the scoreless deadlock, and the Cougars went on to a very impressive road win. The Cougars remained unbeaten in League play, and have out scored opponents 41-5. Goal Keeper JESSI BRUCE was once again brilliant in goal, registering her 7th shutout of the year, and leaving Valhalla frustrated all night. Next up, Helix @ Helix Tuesday 1/15/02