Date
Opponent
Result
Goals (Season Totals)
Assists (Season Total)
Player of the Game
12/3
Scripps Ranch
0-1 Loss




Jalyn Lupo
12/10
Westview
1-4 Loss
72:39 Savanna (1)
Rileigh (1)
Briana Daoust
12/11
La Costa Canyon
2-2 Tie
9:00 Alyssa (1), 23:20 Alyssa (2)
Savanna (1), Angelica (1)
Alyssa Campa
12/12
Foothills Santa Ana
2-2 Tie
12:39 Alyssa (3), Zoe (1)
Savanna (2,3)
Savanna Nager
12/13
La Serna
1-1 Tie
22:22 Morgan (1)
Savanna (4)
Morgan Sterling
12/13
Grand Terrence
0-1 Loss


Chiara Fishburne
12/22
Marina Huntington Beach

2-1

Win

45:35 Briana (1), 65:34 Alyssa (4)
Lizzy (1), Morgan (1)
Victoria Stroman
12/22
La Quinta Palm Springs
4-1 Win
23:34 Alyssa (5), 32:45 Savanna (2) 49:56 Serena (1), 67:34 Anna (1)
Savanna (5), Bri (1), Alyssa (1) Alyssa (2)
Alyssa Campa
12/27
Torrey Pines
1-1 Tie
49:45 Alyssa (6)

Serena (1)
Serena Schwartz

12/27

Mission Vista

2-2
6:58 Alyssa (7), 47:34 Sarah (1)
Jalyn (1), Alyssa (3)
Alyssa Campa

12/29
Francis Parker
2-0 Win
10:34 Zoe (2), Alyssa (8)
Anna (1), Savanna (6)
Anna Telliard

12/29
San Pasqual

3-0 Win

5:00 Savanna (3), 41:34 Alyssa (9)

74:34 Serena (2)

Sophia (1), Lizzy (2) ,Sarah (1)
Sarah Fregoso

12/30
Rancho Cucomunga
0-1 OT Loss
45:34 Zoe (3)
Savanna (7)

Jalyn Lupo
1/8
Amarillo Texas

1-0

Win

65:34 Lizzy (1)
Briana (2)

Elizabeth Bagdasar
1/9

Coppel Texas

1-1

Tie

7:34 Jalyn (1)
Savanna (8)
Briana Daoust

1/10

Hockaday Texas

3-0

7:00 Bri (2), 43:34 Alyssa (10)

59:23 Savanna (4)

Celeste (1), Savanna (9), Alyssa (4)
Alyssa Campa

1/13
Hilltop


2-1

Win

19:24 Morgan (2), 43:56 Savanna (5)

Savanna (10), Briana (3)


Shelbi Horner

1/16

Grossmont


2-1

Win

56:34 Alyssa (11), 81:14 Savanna (6)
Savanna (11), Alyssa (5)
Savanna Nager
1/23
El Capitan

3-0

Win

23:12 Alyssa (12), 37:34Savanna (7),

54:23 Serena (3)

Savanna (12), Lizzy (3), Sealan (1)
Shelby Wray
1/28

Granite Hills


2-1

Win

13:45 Zoe (4), Serena (4)
Alyssa (6), Briana (4)
Chiara Fishborne
1/30

Valhalla

0-0
Shelby Wray
2/5
West Hills
1-0 Win
22:34 Alyssa (13)
Sophhia (2)
Victoria Stroman
2/7

Grossmont

1-0 Win
15:34 Alyssa (14)
Sophia (3)

TEAM KYLIE :)
2/10
El Capitan
3-1 Win

15:34 Alyssa (15), 56:56 Alyssa (16),

77:34 Alyssa (17)

Sophia (4), Serena (2), Morgan (2)
Alyssa Campa
2/13
Granite Hills
3-2 Lost
36:35 Serena (5), 63:34 Sophia (1)
Morgan (3), Sophia (5)
Sophia Alcaraz
2/15
Valhalla
0-0
Morgan Sterling
2/28
San Pasqual (CIF Quaterfinals)

4-2

WIN

OVERTIME PKS: Lizzy (2), Bri (3), Alyssa (18), Savanna (8)



Holly Telliard
3/4
Rancho Bernardo (CIF Semi-Finals)

2-1 OT

WIN

Goals: 57:38 Alyssa (19), Serena (6)
Briana (5)
Serena Schwartz
SCHEDULE THIS WEEK:

Varsity:
Monday: 3-5pm (Bring Running shoes and cleats)
Tuesday: 4:30-6:30pm
Wednesday: 5:30pm Game vs. Scripps @ Scripps (Bus)
Thursday: 4:30-6:30pm
Friday: 3:00pm PICTURES

JV:

...


Monday: 5-7pm
Tuesday: 3-5pm
Wednesday: 4:00pm Games vs. Scripps @ Scripps (Bus)
Thursday: 3-5pm
Friday: 3:00pm PICTURES
Saturday: Barons Tournament TBA

FRESHMAN:
Monday: 5:30-7:00pm Conditioning
Tuesday: 6:30-8:00pm
Thursday: 6:30-8:00pm
Friday: 3:00pm PICTURES
Saturday: Barons Tournament TBA
After some truly gut wrenching decisions and an amazing tryout by the girls, we are proud to announce the 2014-2015 SC GIRLS SOCCER TEAMS. SCHS Parents meeting at 5:30pm in the gym, followed immediately by the Girls Soccer meeting in the Stadium. Thursday Practice: Varsity 5-630pm JV 6:30-8pm Freshman TBA at Meeting GO COUGARS!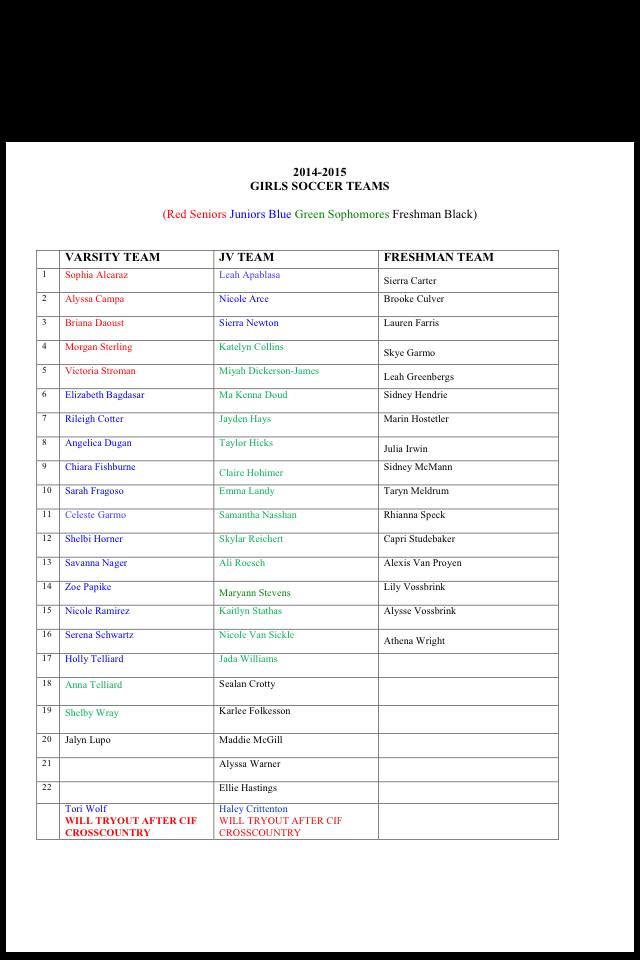 Tryouts Attire: Plain White t-shirt with Name clearly written on Front and Back. Soccer cleats, shinguards, water bottle, and RUNNING SHOES every day. Saturday November 15th SC STADIUM (Arrive in Running shoes.) 4:00pm - 5:30pm Cooper Test 40 Yard Timed Run Juggling Test 12th and 11th Graders will go first, followed by Sophomores and then Freshman. Bring a snack, and jacket while waiting for everyone to finish. 5:30-6:00pm Break 6:00-7:30pm 1v1 Contest Sophomores, Freshman, and all new players to the program. 7:30-8:00pm Goalie Wars MONDAY-FRIDAY 6:00pm-8:00pm
Through the efforts of the Peace Corps and our girls soccer program, a group of girls in the poverty stricken African nation of Burkina Faso are playing soccer for the first time and are wearing our donated Steele Canyon uniforms!
Peace Corps volunteer Jessica Aceves (a former player of Coach Charlie's) stated that the girls in Burkina Faso, traditionally do not play sports, because they are for boys, but having the uniforms and last year's SC team picture are great motivators for the girls and cultural change although slow is happening in this far away Africa nation!
Good Luck to our Steele Canyon Sisters!!!