It's that time of year again. Alums, friends, and family of De La Salle gather together for the annual reunion known as Homecoming. This Saturday, September 22nd, De La Salle plays the Cubs of U of D Jesuit for their homecoming game. U of D is 2-2, 0-2 in the Central, but could easily be 4-0 were it not for some miscues late to cost them the last two games. De La Salle is also 2-2 and coming off a stinging loss to Rice. But hope springs eternal for everyone and the Pilots can come out on top. Two years ago when U of D reached the Division II semi-finals, it was widely known that their turn-around occured in a game against the Pilots earlier that year. Can the Pilots pull off the same kind of magic U of D did two years ago? Will the purple jersey karma work against the Cubbies? Anything is possible, especially at Homecoming. As a side note, this game will also mark the last homecoming for the Class of 2002. Most of the Seniors have been playing for De La Salle since their freshman year and have put time, effort, and pride into their duty of being De La Salle football players. The football program thanks the Seniors for their efforts and hopefully continued success in future games. The game is on Saturday, September 22nd at East Detroit Memorial. Game time is at 2:00 pm. Please note the starting time of the game. As always, Good Luck and Go Pilots!
In a game with emotion running throughout it, the Pilots gave a valiant effort in the first half, but lose to Brother Rice 37-14. The Pilots were down only 10-0 at the half, but within the first 5 and a half minutes of the third quarter, Brother Rice capitalized on Pilot miscues to take a commanding 30-0 lead and putting the game out of reach. Justin Turner gained 68 yards on 7 carries and Brad Sabo and Brian Scharf scored the Pilots two touchdowns in the third and fourth quarter respectively. The Pilots now fall to 2-2, 0-1 in the Central Division. The Pilots next take on a dangerous U of D Jesuit team, a team with a deceiving 2-2 record, losing their last two games in heartbreaking fashion. This game is also homecoming for the Pilots and they will be up to play this game. The game is at East Detroit Memorial, our home field, on September 22nd, 2001. Game time is 2:00 pm. Good Luck and Go Pilots!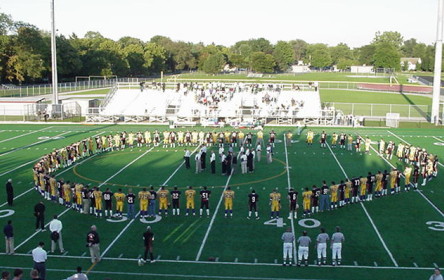 With the tragedy in New York and Washington DC, the De La Salle community would like to send its thoughts and prayers to the victims in New York and Washington DC. In the wake of the tragedy, high school football finds itself being the only game in town. De La Salle plays Brother Rice this Saturday, September 15th at Seaholm High School in Birmingham. Game time is 7 pm. The Pilots are looking to knock off the 2000 Division II State Champion Warriors and have a good chance of doing it with Rice losing 39 seniors from last year's team. Rice comes into this game at 2-0, including a thrilling game against U of D Jesuit where Rice came back very late in the fourth quarter to win 21-20. In this time of the country uniting, all De La Salle fans should join together to support this team. Everyone that comes to this site should please come to the game and tell your friends and family about the game and bring them along. Let us unite behind this football team and show them the support they deserve. Remember, "Together, we can." Good luck and Go Pilots!

Tradition is a big part of De La Salle football. In the eyes of observers, it makes us who we are today. One of the biggest traditions of the De La Salle football program is the color purple. To some, it may not seem like a big deal, but to De La Salle and everyone associated with it, purple is De La Salle. So when Coach Brandon had an opportunity to restore the time-honored purple jerseys, he jumped on the opportunity. So, for the first time since October of 1999, the Pilots of De La Salle wore purple jerseys for a football game. And wouldn't you know it, the result was the same: a win. De La Salle beat arch-rival Notre Dame 21-6 at a rain-soaked East Detroit Memorial. The start of the game was delayed to 8:00 pm and the referees stopped the game on two different occasions due to lightning in the area. The game finally concluded at around 11:00 pm. The game started off slow for both teams, but De La Salle jumped out in front towards the end of the second quarter when Joe Novak ran the ball into the endzone from 15 yards out to give DLS a 6-0 lead. About 2 minutes later, Joe Novak intercepted an errant ND pass and ran that in from 30 yards out for another touchdown. Oh, by the way, Joe also ran the conversion in to make it 14-0 DLS. In the second half, ND scored on its second possession of the second half, driving 76 yards to score their lone score. On the ensuing drive, De La Salle finally put the game out of reach with a 1 yard dive into the endzone by, no, not Joe Novak, but Justin Turner with 6:48 left in the game. For the game, Joe Novak rushed for 108 yards on 16 carries, Justin Turner rushed for 75 yards on 15 carries, and Brad Sabo finished off the triple running threat with 43 yards on the ground. ND finished with only 119 total yards for the game with 18 yards coming in the first half. Great game guys! De La Salle is now 2-1 for the year. Now the focus goes on to Brother Rice. As many of you remember, Rice humiliated De La Salle 30-0 last year at East Detroit and is coming into this game at 2-0, barely beating U of D, 21-20. This year, the Pilots are looking for a bit of revenge and to start off the league season on the right foot. The game is Saturday, September 15th at 7:00 pm. The game will be held at SEAHOLM High School in Birmingham. Let's go Pilots! Let's make it two in a row! Good Luck and Go Pilots!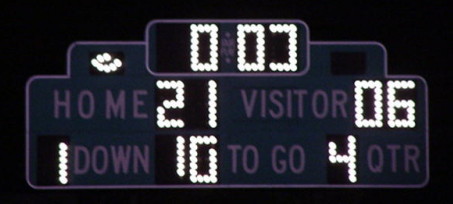 What more can be said about this game? This game brings out intense emotion that can rarely be matched at any other time of the season by both teams. Both are hungry for the win. For De La Salle, they come in at 1-1 and want to redeem themselves for the game against Bishop Gallagher. Notre Dame, who comes in at 2-0, wants revenge for the previous year's loss which saw them lose a 13-point, fourth quarter lead and eventually the game. This game brings out students, teachers, alumni, friends and family for both teams and not a moment goes by where either side isn't screaming their lungs out. This is one of the eastside's best rivalries that is hard to match. The game is on Saturday (note it's Saturday, not Friday as the boneheaded webmaster first said) at 7:00 pm @ East Detroit Memorial Stadium. Come early because this game will sell out fast. As always, Good Luck and Go Pilots!!!