Announcement
Mustangs advance to MCAL championship game
More editing options
SAN RAFAEL--Matt Testa went the distance, allowing four hits and fanning eight Drake Pirate hitters on his way to a 3-2 decision. The win sends San Marin to it's second consecutive MCAL championship game Saturday night against the Marin Catholic Wildcats.
The Mustangs (18-6) took advantage of Drake errors in the first and second inning and got an RBI-single from catcher, Mike Gonzalez to stake the Mustangs to a 3-0 lead, only to hang on to thanks to Testa's gutsy performance.
The Pirates (15-11) got on the scoreboard in the fifth inning and scored their second run in the sixth. Drake's lead off hitter in the seventh inning was hit by a pitch and advanced to second on a sacrifice bunt. Testa came back to strike out the next hitter and induce a groundball to Kyle Morrow at secondbase to shut the door.
Morrow reached base in all three of his at-bats and scored the game's first run of the night.
Kellen Porter made his return to the starting lineup after missing time since the Spring tournament. Porter went 1 for 3, singling in his first at-bat and scoring what turned to be the game's winning run.
Mike Driscoll added a double for the Mustangs.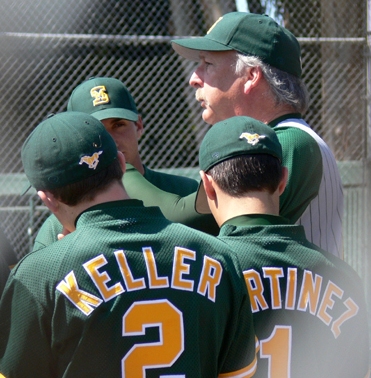 Comments
There are no comments for this announcement.