Announcement
MCAL Champs!
More editing options
SAN RAFAEL--Dating back to 1991, the Mustangs had played in quite a few MCAL title games but kept coming up short. All that changed when the 2007 team, many of whom were in diapers the last time an MCAL pennant was waved by the green and gold, got the job done with a 3-2 victory over the Drake Pirates on Saturday night at Albert Park. Vinny Pacchetti led the game off with a walk, stole secondbase and moved to third on Vince Ross' single. Ross also stole second, setting up Jimmy Pederson's RBI-ground out. Tyler Taggard sent Ross home moments later with a double down the leftfield line, giving San Marin a 2-0 lead. In the third, San Marin again took advantage of a lead off baserunner as Tony Taylor was hit with a pitch. Taylor advanced to second when Danny Torres laid down a bunt single and later to third, courtesy of a throwing err3or. Jimmy Puccinelli then grounded into a 4-6-3 double play, scoring Taylor. The Mustangs gladly traded the two outs for what later turned out to be the game winning run. Mike Lopez made his first start in several weeks, giving the team a much-needed three innings of work. Lopez struck out four and kept the Pirate bats in check, allowing just one run. Chris Keller returned to form as a solid reliever on this night. The Mustangs win leader gave up a lead off homer in the fourth inning, cutting the score to 3-2, but that was the last run that would cross the plate on this night as Keller turned stingy and the Drake Pirate offense turned quiet. Keller, having thrown a complete game earlier in the week, allowed just two more hits over the next three innings and righted the ship when the Pirates had runners at the corners before striking out the final two outs in the sixth. Entering the seventh inning and Keller having maxed out of innings for the week, Coach Whitburn turned to the league's top closer, Matt Testa, to finish up. Testa didn't disappoint, after collecting the save the night before, Testa was asked to do the same again as he struck out the lead off man, got a fly ball-out to rightfield and finally put Drake away with a ground out to Kellen Porter at firstbase to preserve the 3-2 lead and send the Mustangs home with the pennant. The MCAL Champion, San Marin Mustangs (18-7; 10-6) move on to NCS beginning next week.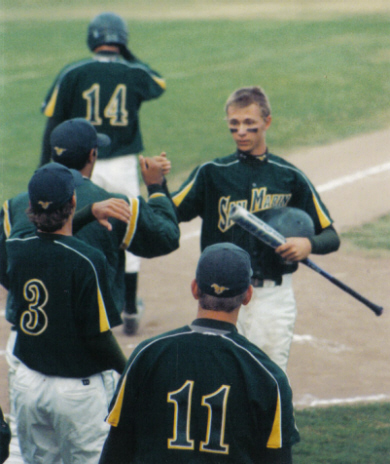 Comments
There are no comments for this announcement.