Announcement
Coach Mo
Posted by
Coach Mo
on Dec 06 2013 at 04:00PM PST
More editing options
Director, Head Coach A 13 year Air Force Veteran (Training Systems Specialist), Coach Mo began working as a coach in the Phoenix area in 1990 at Luke Air Force base where his 56 Medical Group football teams enjoyed a 40-4 record in 4 years with 4 championship appearances (winning 3). His military training, education & experience and has given him unique and use knowledge in a wide range of areas to include training systems development, nutrition, kinesiology, biomechanics, biolocomotion and astrophysics, giving him a unique perspective in the areas of speed development. As a track coach at Peoria Centennial (91-94), Phoenix Moon Valley (93-98) and Desert Vista (99-2000) high Schools his athletes enjoyed phenomenal success dominating the sprints, jumps & hurdles in their respective regions.
In 1999 Coach Mo's sprinters won every sprint, hurdle & long jump title in the region while he was at Moon Valley (he also tutored sprinters from Apollo, Independence, Cactus & Centennial High Schools). His Lightning Track Club (LTC) trained athletes won nearly every sprint, hurdle & long jump event in the region during his ttenure based out of Moon Valley in the Glendale District. In 1997 & 98, he coached back to back state sprint champs Jamaal Peterson (100m, silver at 200, 4th in the 100HH) and Brandon Bardwell (200m, silver at 400, 4th in the 100m). He was also the receivers & defensive backs coach at Moon (93-94) tutoring 4 all-region selections.
Since 1994, Coach Mo speed campers & LTC alumni won dozens of regional titles, three dozen top 4 state finishes and over 40 state Championships. In 2000, he helped Desert Vista's girls team to the 5A title, coached 5A triple jump state champ Bobby Wade (Chicago Bears/Tennessee Titans), All-America spinter and Footlocker classic finalist (100m) Chris Snow, a major league baseball draft pick (Los Angeles Dodgers) and all state sprinter Alexis Welch. He was also an assistant coach for the region champion Thunder football team and members of Desert Vista's state championship baseball team. In 2002, Coach Mo reunited with former Desert Vista football and track Coach Jim Rattay at Phoenix Christian High School. Since then, the two continued their winning ways as the Cougar football team has won consecutive region and a state titles (2003 & 2004).
In 2002 Mo also took on Athletic Director duties at the Murphy Field Of Dreams and would soon take over as youth football manager for the Arizona Cardinals. After stints as an Assistant Principal at Career Success and Ahwatukee Horizon Schools, Coach Mo became the Cougars head track & field coach in 2003, coaching the Cougar sprinters, hurdlers & jumpers. During his tenure, the Cougars have had their best showing in 20 years with 90 top 10 finishes and 14 championships in the 2A metro region including second place team finishes in 2003 & 2004. At the state championships, his athletes have had 62 top 10 finishes and three state titles. The boys team was state runner up in 2005. In 2006, PC hurdlers Matt Kredit and Domoneek Staton swept the boys & girls hurdles at the 2A metro region championships. Kredit went on the take third at state.
2005 brought in a who new dimension to Coach Mo's resume as many of the NFL combine's top performers had ties to his speed camps. After two years of working with future NFL draft picks in Shaun McDonald (Rams 4th rounf 2003) and Terrell Suggs (Ravens first round 2004), he teamed up with Brett Fisher. After that his success had a multiplative results in 2005 with Roddy White (first round/Atlanta), JJ Arrington (2nd round round/Arizona), Vince Jackson (second round/San Diego), Kelvin Hayden (Kelvin Hayden 2nd round Indianapolis), Lofa Tatupu (2nd round/Seattle) all being drafted. In all, 12 players with ties to Coach Mo were drafted. In 2006, Manny Lawson was drafted by the 49ers in the first round while Brandon Marshall (Broncos), Stephen Tulloch (Titans) and Darryl Tapp (Seattle) were all selected in the first day and had instant impacts on ther respective teams. All shined brightly at the Indianapolis NFL combine and their home Pro Days.
Coach Mo still trains the finest in NFL prospects and several free agents. Dozens of basketball, softball and volleyball players that attended Coach Mo Speed Camps have been named to all-state teams, forty three were honored by their regions in their respective sports. A succesful string of All-state running backs like DJ Hollingsworth (Cactus '98), Kyran Jones (Peoria '99), Chasda Martin (Moon Valley '99/Northwestern), Bobby Wade (Desert Vista '00/Arizona), Philo Sanchez (Tucson Sunnyside '01/Northern Arizona) C.R. Davis (Moon Valley 02/Wyoming) and Kyle Gingg (Phoenix Christian '03/Boise State) all spent time with Coach Mo's speed training. He's also trained all-region and all-state recievers at four different schools. A former Air Force & college sprinter and guest speaker at the Nike Coach of the Year Clinic, Coach Mo's client list has included Aeneas Williams (St. Louis Rams), Simeon Rice (Buccaneers), Javon Walker (Packers), Shaun McDonald (Rams), Terry Fair (Steelers), Tony Womack (Boston Red Socks), Michael Bankston (Redskins), Travis Brown (Bills), Allen DeGraffenried (Broncos), Terry Irving (Titans), Terrell Suggs & Frank Sanders (Ravens), Bryan Gilmore (Cardinals), Kwamme Lassiter (Chargers), MarTay Jenkins and other NFL, baseball, college and high school athletes. Recently, his speed camps have been instrumental in preparing college stars like Arizona State's McDonald, Suggs, Jimmy Verdon, Skyler Fulton, Regis Crawford, Jason Shivers and Dale Robinson for the NFL draft and training camps.
For testimonials and more on Coach Mo, scroll down on this page.
James 3:13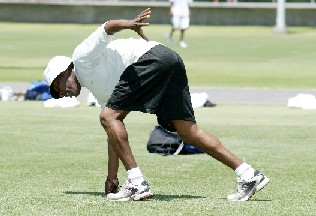 Comments
There are no comments for this announcement.