Announcement
<center>Jaguars Lead The Way In 1999 All-Star Win!</center>
Posted by
Dave Rea
on Nov 20 1999 at 04:00PM PST
More editing options
Saturday, November 13, 1999 the BYF held their annual All-Star game at Edwards Field in Brunswick. The teams consisted of the Jaguars, Steelers, and 3 Redskins on one team, against the Chargers, Colts, and 3 Redskins on the other team.

The Jags/Steelers/Skins team won the game by a score of 20-0. Joe Hon (62) rushed for 2 TDs, one of which was 95 yards. Dustin Supan (80) scored the other, and Danny Lough (39) added an extra point kick that was good for two points.
Pictured above (L-R):
1st Row:Drew Megrey, Dustin Supan, Josh Harvey
2nd Row:Callahan O'Brien, Alex Feiler, Danny Lough, and Joe Hon
3rd Row: Tom Ward, Lee Mercer, and Ken Pekarek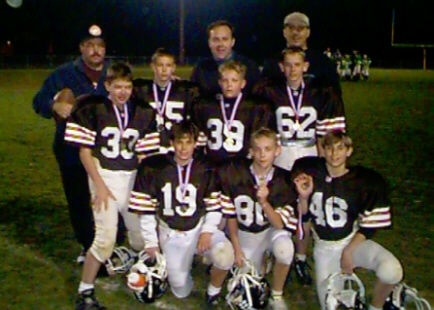 Comments
There are no comments for this announcement.