Announcement
<center>Jags Do It Again!</center>
Posted by
Dave Rea
on Nov 04 2000 at 04:00PM PST
More editing options
The Jaguar Varsity made it to the playoffs as the Number 1 Seed and were able to repeat as BYF Champs again in 2000. They went into the playoffs with an unblemished 5-0 record. They raised that to 7-0 as they defeated the Colts and Chargers to reach the Championship Game.
During the season the Defense gave up 2 TDs in the first game to the Chargers, and 1 TD in the second Charger game. The Offense allowed a safety against the Browns in the second game. They notched 4 straight shutouts and are averaging 26 points a game.
They defeated the Colts 26-6 to become champs again and finish at 8-0. They scored 208 points for an average of 26 points a game, and give up a miserly 3.3 points a game.
Great job players and coaches on staying focused and continuing your outstanding teamwork as we worked toward our 2000 Season goals and became the Champs again! GO JAGS! BUCKEYE PRIDE!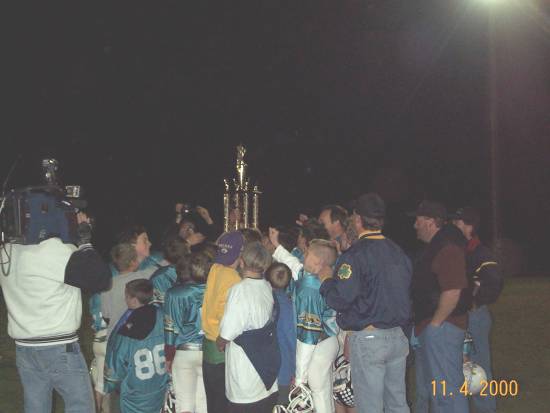 Comments
There are no comments for this announcement.