Announcement
<center>1999 Coach's Award</center>
Posted by
Dave Rea
on May 31 2007 at 05:00PM PDT
More editing options
The JV coaches gave out their first 'Coach's Award' at the team banquet in November. Coach Tom Ward descibed the award as going to not necessarily the best player on the team, but to the one that is dedicated to the team, is the most coachable, works hard and comes to practice every day, and gives 100% in games at all times.
This year's award went to Tim O'Connell. Tim is a 2nd year Jaguar and enjoys this game from the beginning of the season to the end. Congratulations Tim on a job well done! Tim is returning to the Jaguars for the 2000 Season and will be moving up to Varsity.
Update:
After playing with the Jaguars from 1998 until 2000, Tim played with the Bucks from 2003-2006 as a Linebacker and Wide Receiver. During his Senior season he caught 10 passes for 135 yards and got Honorable Mention on the All Inland District Team as a Linebacker. He is currently attending the University of Toledo.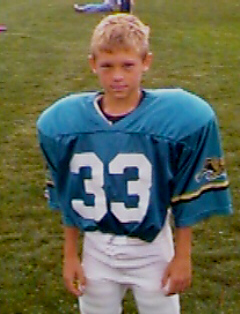 Comments
There are no comments for this announcement.