Thanks to all who made the meeting: Justin Pollnow, Jimmy Dettmann, Brian Gibson, Tim Spata, Nick Kibler, Chris Marks, Andy Butorac, James Herkowski, Steve Elliott, Jake Koutnik. 1. Shawn Jacques has joined the team 2. Brad Sterling retires/Lance undecided. 3. Continue to pursue one more player 4. Additional game scheduled vs. Sheboygan 5. 4 of 5 non-conference games scheduled. 6. Regular season to begin Memorial Wknd 7. Road trip to Menasha,etc May 18-19 8. Golf free at Nationalsfest if you bring you bring others to golf at full price. 9. Bat restrictions this year: NCAA rules apply. 10. Contributions to this web site welcome.
Though a previously scheduled tour event precludes Mr. Trevino's entry into this year's golf outing, he encourages others to participate. "Of all the tour stops I've made over the years, Nationalsfest 2000 was the most...memorable." If you are interested in golfing at this year's event, please sign our message board or call 414-327-2398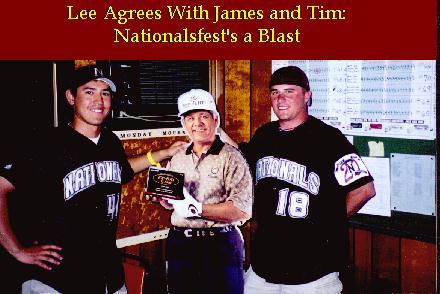 Benefitting from a home course advantage and superior equipment, Lance Longhenry won the first annual indoor golf tournament on December 23, 2000. Brian Gibson and James Herkowski were close runners-up while Steve Elliott, Dave Glaser, Danny Lorum, Nick Kibler and Tim Spata were clearly challenged by the formidable conditions.
After months of training and several close losses, Steve Elliott successfully defeats the County Stadium Bratwurst. Following the defeat, the glorified sausage announces his retirement.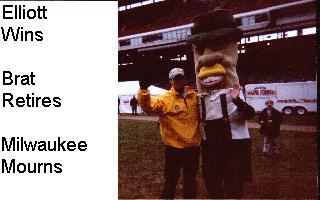 The West Allis Nationals celebrated their 25th season in league play by defeating Fritz Dodgers two games to none in a playoff series last August. The Grand Championship was the 6th in team history, and first since 1990. Overall the Nationals have 10 first place division finishes in their history. For more information, please see "Pre-2001 Stats" and access "All Time Record."