In playoff action, the Nationals continued their strong play. While the offense was impressive, the pitching and defense were dominant. Jim Dettman pitched 6 shutout innings in route to a game one 8-2 victory. Leading the way on offense were Mike Czarnecki with three hits and Andy Butorac with a game-breaking three-run double. Nick Kibler met the challenge in game two. Allowing only 6 hits and striking out 5, Kibler shut down the White Sox and the team cruised to a 11-0 victory. The Nats posted tallies in each of game two's seven innings. Leading the offense was James Herkowski with 3 hits. Brian Gibson added two, including a homer. Mike Czarnecki, Alex Franson, and Joe Reisinger also contributed two knocks. The series sweep earns the Nationals a berth in the Milwaukee County Minor League Championship. The team will face Fritz' Dodgers in a best of three playoff series beginning Saturday August 11 at 6PM. All games will be played at Zirkel Field in McCarty Park.
After making unwelcome advances toward the spouse of one of our veteran players, several members of West Allis' finest detained the famous rodent. At the advice of his attorney, Bernie offered, "No comment." Police insiders suggested that the oversize rat won't be spotted at Miller Park this spring. "It's a deeply troubling situation," stated one unnamed source. More on this shocking story as it develops. STORY UPDATE: June 20, 2001 All charges against the rodent have been dropped according to an unnamed source on the force. "Our patrolmen did a fine job of interviewing witnesses and gathering evidence. There was, however, and unfortunate event that occurred involving one of our canine handlers, his canine, and Mr. Brewer. I am not at liberty to comment on this ongoing investigation other than to say that Mr. Brewer should be able to resume his duties at Miller Park by early 2003." This reporter will continue to follow the developments in this story and update you as news becomes available. STORY UPDATE: August 6, 2001 Bernie continues his rehab, but his long term prognosis remains unclear. The D.A. has chosen not to file any charges against the canine handler due to a lack of evidence and dearth of witnesses to the alleged attack. The canine handler in hearing this responded accordingly. "I was confident that the West Allis Police Department do the right thing, and prove my innocence... uh, I mean, what I meant to say was that that given time, the criminal justice process would fail to unearth any proof of my guilt... uh, on further thought, my barrister suggests I say "no comment" You can print that and put that in your pipe and drink it.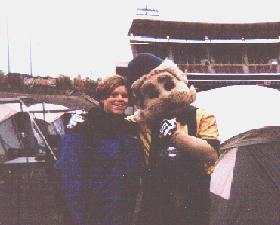 The date has been set for the team's annual post-season party and awards celebration, and for the first time, the event will include a golf outing. Those interested in golfing should meet at Doyne Golf Course (53rd and Wells) at 10AM August 26, 2001 (Sunday AM). Cost is $40.00 Those only interested in the Barbeque (catered by Rupena's) and Awards Ceremony should plan on being at Doyne by 2PM. Cost is $15.00. Any questions, contact Steve Elliott @ 327-2398 or 614-2398.
Tim Spata and Jim Dettman combined for six innings of no-hit ball before allowing an infield single in route to a game one 7-1 victory. Game two featured a seven run first inning outburst followed by a six run second as the Nationals rolled to a 13-0 victory. Johnnie Meier knocked in four runs and Jake Koutnik added an inside the park home run. The Nationals regular season record now stands at 19-0.
The local nine completed a successful defense of their South Division regular season title with an impressive sweep of the Rajun Cajuns on Saturday nite. The team exploded for a season-high 33 hits in the doubleheader while improving its league record to 17-0. Mark Van Hart led the way in the first game, 10-2 victory by supplying 2 Home Runs. Van Hart, Brian Gibson, and, yes, Lance Longhenry contributed three hits each in the 12-6 nightcap victory.