Wisconsin State League Managers and General Managers met Saturday and elected players for post season honors. Among the winners were several West Allis Nationals:
Most Valuable Pitcher:
Jimmy Jungbauer
1st Team All Wisconsin State League:
Ben Carpenter - SS
Jimmy Jungbauer - Right Handed Pitcher
Aaron Goecks - OF
2nd Team All Wisconsin State League:
Curt Pryal - DH
Jonah Meidl - OF
Matt Richer - C
A number of other Nationals received votes for Most Valuable Player and Rookie of the Year. Please see attachments for detailed results of the votes.
A number of deserving Nationals have been nominated for Wisconsin State League honors for their 2016 season performances:
All League Nominees:
First Base: Max Widmar
Second Base: Kyle Kalkopf
Shortstop: Ben Carpenter
Third Base: Jonathan Keane
Catcher: Matt Richer
Outfield: Aaron Goecks, Jonah Meidl
DH: Curt Pryal
Right Handed Pitcher: Jim Jungbauer
Left Handed Pitcher: Tom Starck
High Honors Nominees:
Rookie of the Year: Aaron Goecks, Ben Carpenter, Jonathan Keane
Most Valuable Player: Matt Richer
Ballots will be cast by all WSL franchises this week. Winners will be announced on November 1.
The West Allis Nationals and Kenosha Kings both had scoring chances on Sunday, but it was the West Allis Nationals that were able to capitalize on them as they pulled out a 4-3 win in the WSL Invitational Championship Game at Wildwood Baseball Park, Sheboygan, WI. In the bottom of the second, the West Allis Nationals grabbed the early lead, 2-0. Jake Kolacinski started the rally for the West Allis Nationals with a single. John Keane doubled, scoring Aaron Goecks and Kolacinski. The West Allis Nationals went up for good in the fourth, scoring two runs on a groundout by Jonah Meidl-Zahorodny and a single by Adam Karas. Tom Starck shut down Kenosha Kings while he was on the mound. Kenosha Kings managed just two hits off of Starck, who allowed no earned runs, walked one and struck out three during his three innings of work. One run in the top of the seventh helped Kenosha Kings close its deficit to 4-3. West Allis Nationals closer Aaron Woods closed the game out with a strike out of Cyle Hartwig. The Nationals finished the season on a 7 game winning streak to hit the 25 win mark for only the second time in franchise history.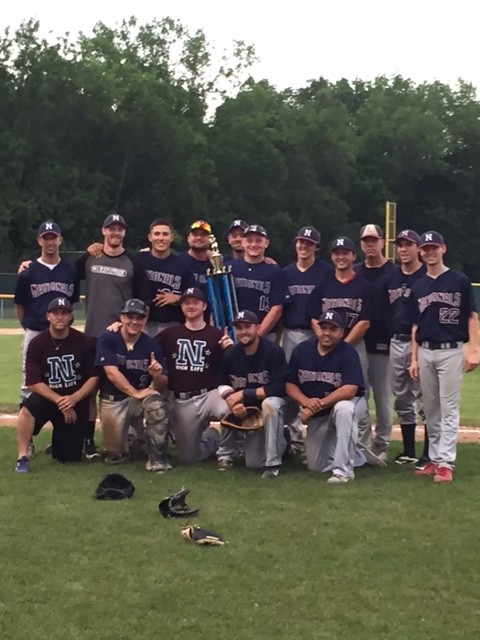 Saturday was a rough outing for Cody Griebling, but the West Allis Nationals still managed to pull out an 8-7 victory over Sheboygan A's in seven innings at Wildwood Baseball Park, Sheboygan, WI. Griebling gave up six in five innings, and the bullpen surrendered one run but the offense banged out 13 to pick up the slack and secure the win for the West Allis Nationals. The West Allis Nationals jumped out to an early 3-0 lead in the top of the first. A double by Richer, scoring Jonah Meidl-Zahorodny started the inning off. More runs came home for the West Allis Nationals when Richer and Pryal scored on a two-run single by Jake Kolacinski. Sheboygan A's answered the West Allis Nationals' top inning with four runs of its own in the first. Sheboygan A's scored on a solo home run by Harry Steldt, a two-run error, and an RBI single by Ben Folger. The West Allis Nationals recaptured the lead in the second inning, adding 5 more runs to jump to an 8-4 lead. Sheboygan added single tallies in the third, sixth, and seventh innings and had the winning run at second with two outs when Harry Steldt hit a liner at Brian Huntzinger in left field end the contest. Matt Richer racked up two RBIs on two hits for the West Allis Nationals. He doubled in the first inning and singled in the second inning. Jake Kolasinski added two hits and 4 RBI's. Curt Pryal reached base four times, including two hits, and knocked in a run. The Nationals conclude their 2016 season on Sunday in the Championship Game of the WSL Invitational Tournament. They'll host the Kenosha Kings in Sheboygan at 6pm. Kenosha downed the Sheboygan A's 2-1 to advance.