Since a runaway winner has been determined for this year's FATMAN, let's put our attention on this year's best offensive performer. The following calculation incorporates Runs produced per AB, On Base %, Slugging %, and Steals/game*.33 to determine a player's offensive effectiveness. Here are the results thru 7-29-02 (League games only) Koepp 2.530 Paige 2.159 Koutnik 2.062 Reisinger 2.059 Spata 2.036 Marks 1.894 Franson 1.800 Gibson 1.748 Dettman 1.727 Herkowski 1.604 Wajerski 1.472 Kissler 1.200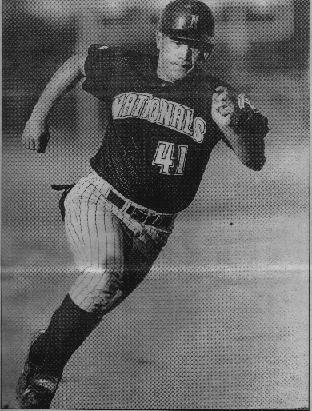 The archrival White Sox arrived Sunday night needing a sweep to keep their slim playoff hopes alive. The Nationals, however, had different plans, sweeping the Sox by scores of 13-3 and 14-9. In game one the team was challenged early by Sox power pitcher, Kris Ragner. Ragner struck out three of the first five hitters he faced and held the Nationals to one run through three innings of play. Nationals starter, Jim Dettman, was even better though, holding the Sox scoreless until the fifth. The Nationals broke game one open with an eight run fourth inning. Keying the inning was a two run triple by Trevor Koepp and a two run single from Jake Paige. Koepp finished the game with 5 RBI's and established a new franchise season record. Aggressive baserunning sparked the team in game two. The team stole three bases and drew three balk calls while jumping out to a 10-3 lead. Offensive heroics were provided by Jake Paige and Mike Wajerski, each producing three hits. Up next for the Nationals is Lifetime Financial in a makeup of Saturday May 25th's rained out DH. The teams will square off Sunday night at Zirkel Field.
The Nationals will once again honor its high achievers and reflect back upon a successful season at Doyne Golf Course on SUNDAY AUGUST 25. Tee time is 10AM with food and drink to follow the 18 hole scramble tournament. The event is open to the public and cost is $40 per participant. Contact Lance Longhenry at 1-262-679-4661 or Steve Elliott at 414-327-2398 to reserve your spot today. Field is limited to 54 golfers.
Milwaukee County Parks have confirmed that this year's season will conclude with a playoff format. The nature of that format has yet to be determined, so stay posted for updates.
Milwaukee County's finest squared off Saturday at Zirkel Field in McCarty Park. The resulting split was predictable, but the games were not. The Nationals exploded for 15 hits in game 1, running their winning streak to 7 in a 14-4 mercy rule thumping of the previously undefeated Cubs. Jake Paige and James Herkowski led the way with three hits and Chris Marks added a three-run homer as the local nine put together their finest performance of the year to date. Game two afforded no such result. The Cubs jumped on the squad for three in the first and ten in the second en route to a 16-0 drubbing. The early deficit proved too much for the team's otherwise potent offense and the squad suffered its first mercy rule loss in history. The Nationals stand alone in second place, but face a stiff challenge this weekend. The third place White Sox hope to climb the ladder when the two squads square off on Sunday night at Kuenn Field in Rainbow Park.