GLENDALE takes Third Place for the first time by defeating Christ the King out of Middle Village, NYC 56-45!
18th Annual Bass Pro Tournament Of Champions!
Jan. 18th, 19th, & 20th
Springfield, Missouri
Southwest Missouri State University
Hammons Student Center
Championship Round:
7th Place Game
Centralia (16-3) 80 - Oviedo,FL (16-5) 63
5th Place
Ozark (16-4) 81 - Heritage Christian (19-6) 72
3rd Place
Springfield Glendale (16-3) 56 - Christ the King (8-7) 45
Championship Game
Vashon (16-1) 67 - New Madrid County Central (14-2) 54
Second Round:
Ozark Tigers 73 - Oviedo, FL 67
Centralia Orphans 62 - Heritage Christian 65
Christ the King 62 - New Madrid County Central 63
Vashon 57 - Glendale 35
First Round:
New Madrid County Central 77
Oviedo Lions 48
Christ the King Royals 86
Ozark Tigers 84 (OT)
Vashon Wolverines 70
Heritage Christian Eagles 50
Springfield Glendale 60
Centralia Orphans 59
2002 Team Information:
Combined Records of this years teams: 106 - 19
Springfield(MO) GLENDALE FALCONS
Record: 14-2
T Of C Record: 12-9
Last Appearance: 1999
Best Finish: 1994 - 1st Place
So Far This Season:
Ranked 4th in Missouri Class 4-A
Won the Patterson Division of the William Jewell Tournament in Liberty, MO
Finished in Third Place at the West Plains Zizzer Classic
Defeated Two Top Ten Missouri Class 3-A Teams in Ozark(13-3) & Cameron(13-2)
Played Two Nationally Ranked teams; defeating Oxford,Mississippi while losing to Memphis White Station
Defeated State & Regionally Ranked Springfield Kickapoo 66-63
OZARK TIGERS
Record: 14-3
T Of C Record: 1-2
Last Appearance: 1996
So Far This Season:
Lost Two games to Top Five in Missouri Class 4-A Springfield Kickapoo
Lost to fellow 2002 T Of C member Glendale
Won the Gold Division of the 56 Annual Blue & Gold Tournament
Finished in 2nd Place at Springfield Kickapoo's Tip-Off Classic to open the season
Christ the King Prep Royals
Record: 7-5
T Of C Record: 18-6
Last Appearance: 2000
# of T Of C Titles: Four
So Far This Season:
Lost first game to N.Y. Rice by four points!
Defeated Troy, Ohio 74-25
Defeated St. John the Baptist 80-57
Defeated Xaverian 55-52
Defeated St. Joseph Sea 85-36
Lost to Salem, VA 48-49 at SlamDunk Beach Classic over Holidays!
Defeated St. Raymond's Ravens 65-63 (2OT)
Lost to Bishop Loughlin(5-5), 62-65
Lost to Xaverian 54-64
Centralia, Illinios Orphans
Record: 15-1
T Of C Record: 0-0
Making First Appearance!
Known as the Winningest high school prep program in all of the United States!
So Far This Season:
Ranked 8th in Class AA
Defeated Perkin 52-46
Lost to Peoria Richwood 53-58
Defeated Julian 81-54
Defeated Champaign Central 70-61
Defeated Carver 60-38
Oviedo, Florida Lions
Record: 16-2
T Of C Record: 0-0
Making First Appearance!
So Far This Season:
Ranked 8th in FL All Classes Power Index
Ranked 3rd in Florida Class 6-A
Rated 4th in Orlando Metro Prep Poll
Defeated #1 in Class 6-A DeLand, FL 54-50
Defeated Lake Howell 57-42
Heritage Christian (Cleveland, Texas)
Record: 18-4
T Of C Record: 0-0
Making First Appearance!
So Far This Season:
Ranked #1 among Texas Private Schools
Defeated Nationally Ranked The Colony, TX 56-49
Defeated Westbury Christian (TX) 71-69
Defeated Clements, TX 65-54
Defeated Arlington Martin
Defeated Midland Lee
Lost to Kimball
Defeated Mayde Creek
Defeated Waltrip
Defeated St. Thomas 60-53
Defeatd Kimball 82-72
Lost to The Colony 65-81
VASHON WOLVERINES
Record: 12-1
T Of C Record: 5-4
Last Appearance: 1989
Best Finish: 1987 - 2nd Place
2000 & 20001 Class 4-A State Champions!
So Far This Season:
Ranked Top Ten in America!
Ranked #1 in Missouri Class 4-A
Only loss came at the hands of Nationally Ranked St. Vincent-St. Mary, Ohio
Defeated another nationally & state ranked team Columbia Hickman 80-68 to capture the Poplar Bluff Showdown title over Christmas
Defeated Louisville Male 75-45
Defeated 13-2 Saint Louis DeSmet 79-55
New Madrid County
Record: 12-1
T Of C Record: 0-3
Last Appearance: 1996
2001 Missouri 3-A State Champions!
So Far This Season:
Undefeated, until recent two point loss to Carbondale, Illinois
Defeated Missouri 4-A Power Poplar Bluff(10-2), 63-53 in finals of Sikeston Tournament.
*********************************************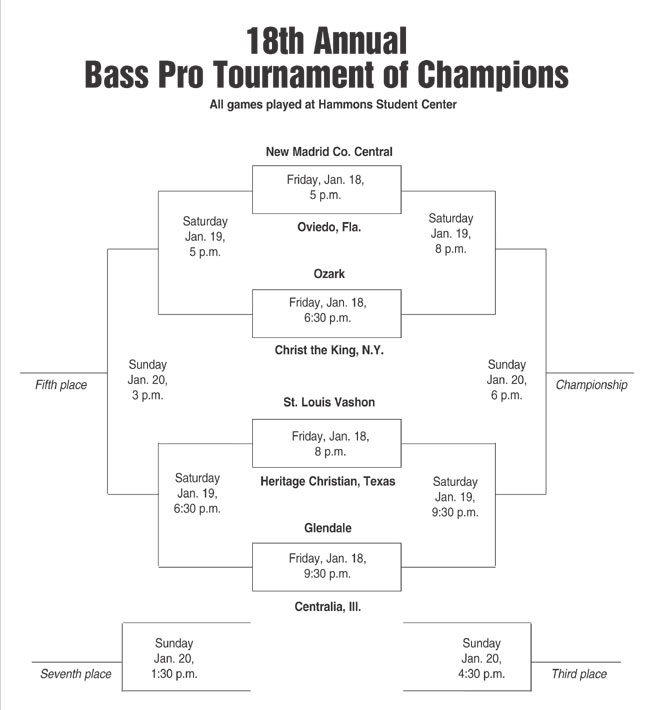 G L E N D A L E (1998 - 2001) 70 - 24 / .75% Kickapoo Chiefs (1998 - 2001) 69 - 23 / .75% Hillcrest Hornets (1998 - 2001) 63 - 31 / .67% Parkview Vikings (1998 - 2001) 61 - 29 / .68% Ozark Conference Records (1998 - 2001) 1. Glendale Falcons / 18 - 6 / .75% 2. Kickapoo Chiefs / 16 - 8 / .67% 3. Parkview Vikings / 15 - 9 / .63% 4. Hillcrest Hornets / 13 - 11 / .54% 5. Joplin Eagles / 5 - 19 / .21%
Click the Link Above! Best Picture Nominees (DRAMA) - Sexy Beast - Memento - The Deep End - In the Bedroom - The Others (Musical / Comedy) - Moulin Rouge - Hedwig and the Angry Inch - Bridget Jones's Diary - Gosford Park - The Royal Tenenbaums (Animated or Mixed Media) - Harry Potter and the Sorcerer's Stone - Jimmy Neutron - Boy Genius - The Lord of the Rings : The Fellowship of the Ring - Monsters, Inc. - Shrek Best Actor Nominees (Drama) - Brian Cox (L.I.E.) - Sean Penn (I Am Sam) - Guy Pearce (Memento) - Billy Bob Thornton (Monster's Ball) - Russell Crowe (A Beautiful Mind) (Musical or Comedy) - Colin Firth (Bridget Jones's Diary) - Gene Hackman (The Royal Tenenbaums) - Ewan McGregor (Moulin Rouge) - John Cameron Mitchell (Hedwig and the Angry Inch) - Ben Stiller (Zoolander) - Chris Tucker (Rush Hour 2) Best Actress Nominees (Drama) - Halle Berry (Monster's Ball) - Cate Blanchett (Charlotte Gray) - Judi Dench (Iris) - Nicole Kidman (The Others) - Sissy Spacek (In the Bedroom) - Tilda Swinton (The Deep End) (Musical or Comedy) - Thora Birch (Ghost World) - Nicole Kidman (Moulin Rouge) - Audrey Tautou (Amelie) - Sigourney Weaver (Heartbreakers) - Reese Witherspoon (Legally Blonde) - Renee Zellweger (Bridget Jones's Diary) Best Supporting Actor Nominees (Drama) - Jim Broadbent (Iris) - Billy Crudup (Charlotte Gray) - Ed Harris (A Beautiful Mind) - Ben Kingsley (Sexy Beast) - Ian McKellen (The Lord of the Rings : The Fellowship of the Ring) - Goran Visnjic (The Deep End) (Musical or Comedy) - Jim Broadbent (Moulin Rouge) - Steve Buscemi (Ghost World) - Hugh Grant (Bridget Jones's Diary) - Carl Reiner (Ocean's 11) - Ben Stiller (The Royal Tenenbaums) - Owen Wilson (The Royal Tenenbaums) Best Supporting Actress Nominees (Drama) - Jennifer Connelly (A Beautiful Mind) - Fionnula Flanagan (The Others) - Brittany Murphy (Don't Say a Word) - Julia Stiles (The Business of Strangers) - Marisa Tomei (In the Bedroom) - Kate Winslet (Iris) (Musical or Comedy) - Anjelica Houston (The Royal Tenenbaums) - Helen Mirren (Gosford Park) - Gwyneth Paltrow (The Royal Tenenbaums) - Miriam Shor (Hedwig and the Anget Inch) - Maggie Smith (Gosford Park) - Emily Watson (Gosford Park) Best Director Nominees - Jonathan Glazer (Sexy Beast) - Baz Luhrmann (Moulin Rouge) - Scott McGehee & David Siegel (The Deep End) - John Cameron Mitchell (Hedwig and the Angry Inch) - Christopher Nolan (Memento) Best Screenplay (Adapted) - A Beautiful Mind - Hedwig and the Angry Inch - In the Bedroom - Last Orders - The Lord of the Rings : The Fellowship of the Ring (Original) - Memento - Monster's Ball - Moulin Rouge - The Others - Sexy Beast Best Cinematography Nominees - Hearts in Atlantis - The Lord of the Rings : The Fellowship of the Ring - The Man Who Wasn't There - Moulin Rouge - Pearl Harbor Best Production Design Nominees - Gosford Park - Harry Potter and the Sorcerer's Stone - The Lord of the Rings : The Fellowship of the Ring - Moulin Rouge - The Others Best Costume Design Nominees - The Affair of the Necklace - From Hell - The Lord of the Rings : The Fellowship of the Ring - Moulin Rouge - Planet of the Apes Best Film Editing Nominees - Amelie - A Beautiful Mind - Harry Potter and the Sorcerer's Stone - The Lord of the Rings : The Fellowship of the Ring - Moulin Rouge Best Original Score Nominees - A Beautiful Mind - Hannibal - Legally Blonde - Moulin Rouge - Spy Games Best Original Song Nominees - 'All Love Can Be' (A Beautiful Mind) - 'Come What May' (Moulin Rouge) - 'I Fall Apart' (Vanilla Sky) - 'There You'll Be (Pearl Harbor) - 'Vanilla Sky' (Vanilla Sky) Best Foreign Film Nominees - Amelie - Baran - Bejing Bicycle - No Man's Land - Our Lady of the Assassins - The Princess and The Warrior Best Sound Nominees - Hedwig and the Angry Inch - Jurassic Park III - The Lord of the Rings : The Fellowship of the Ring - Moulin Rouge - The Others Best Visual Effects - Harry Potter and the Sorcerer's Stone - Jurassic Park III - The Lord of the Rings : The Fellowship of the Ring - Moulin Rouge - Pearl Harbor
Click the Link Above! Best Picture Nominees - A Beautiful Mind - The Lord of the Rings : The Fellowship of the Ring - Ali - In the Bedroom - The Man Who Wasn't There - Memento - Moulin Rouge - Mulholland Drive - The Shipping News - Shrek Winner - A Beautiful Mind Best Actor Nominees - Will Smith (Ali) - Sean Penn (Sam I Am) - Russell Crowe (A Beautiful Mind) Winner - Russell Crowe (A Beautiful Mind) Best Actress Nominees - Nicole Kidman (Moulin Rouge) - Sissy Spacek (In the Bedroom) - Renee Zellweger (Bridget Jones's Diary) Winner - Sissy Spacek (In the Bedroom) Best Supporting Actor Nominees - Jim Broadbent (Iris) - Ben Kingsley (Sexy Beast) - Jon Voight (Ali) Winner - Ben Kingsley (Sexy Beast) Best Supporting Actress Nominees - Jennifer Connelly (A Beautiful Mind) - Cameron Diaz (Vanilla Sky) - Marisa Tomei (In the Bedroom) Winner - Jennifer Connelly (A Beautiful Mind) Best Acting Ensemble Nominees - Gosford Park - Ocean's 11 - The Royal Tenenbaums Winner - Best Director Nominees - Ron Howard (A Beautiful Mind) - Peter Jackson (Lord of the Rings : The Fellowship of the Ring) - Baz Luhrmann (Moulin Rouge) Winner - (Tie) Ron Howard (A Beautiful Mind) Baz Luhrmann (Moulin Rouge) Best Score The Lord of the Rings : The Fellowship of the Ring Best Song (Tie) The Lord of the Rings : The Fellowship of the Ring Vanilla Sky
Click the Link Above! / Awarded JAN. 5TH ON CBS! BEST PICTURE NOMINEES - A Beautiful Mind - Black Hawk Down - In the Bedroom - The Man Who Wasn't There - The Lord of the Rings : The Fellowship of the Ring - Memento - Monster's Ball - Moulin Rouge - Mulholland Drive - Shrek Winner - The Lord of the Rings : The Fellowship of the Ring BEST DIRECTOR NOMINEES - Robert Altman (Gosford Park) - Todd Field (In the Bedroom) - David Lynch (Mulholland Drive) - Ridley Scott (Black Hawk Down) Winner - Robert Altman (Gosford Park) BEST ACTOR NOMINEES - Russell Crowe (A Beautiful Mind) - Billy Bob Thornton (The Man Who Wasn't There) - Denzel Washington (Training Day) - Tom Wilkinson (In the Bedroom) Winner - Denzel Washington (Training Day) BEST ACTRESS NOMINEES - Halle Berry (Monster's Ball) - Stockard Channing (The Business of Strangers) - Sissy Spacek (In the Bedroom) - Naomi Watts (Mulholland Drive) Winner - Sissy Spacek (In the Bedroom) BEST FEATURED (Supporting) ACTOR - Steve Buscemi (Ghost World) - Brain Cox (L.I.E.) - Gene Hackman (The Royal Tenenbaums) - Tony Shalhoub (The Man Who Wasn't There) Winner - Gene Hackman (The Royal Tenenbaums) BEST FEATURED (Supporting) ACTRESS - Cate Blanchett (Bandits) - Jennifer Connelly (A Beautiful Mind) - Cameron Diaz (Vanilla Sky) - Frances O'Connor (A.I.) Winner - Jennifer Connelly (A Beautiful Mind) Best Screenplay Nominees - In the Bedroom - Memento - A Beautiful Mind - Ghost World Winner - Memento Best Cinematography Nominees - The Fast and the Furious - The Man Who Wasn't There - Black Hawk Down - A.I. : Artifical Intelligence Winner - The Man Who Wasn't There Best Film Editing Nominees - Moulin Rouge - Memento - Black Hawk Down - Gosford Park Winner - Moulin Rouge Best Production Design Nominees - Gosford Park - A.I. : Artificial Intelligence - The Lord of the Rings : The Fellowship of the Ring - Black Hawk Down Winner - The Lord of the Rings : The Fellowship of the Ring Best Special Effects Nominees - Harry Potter and The Sorcerer's Stone - The Lord of the Rings : The Fellowship of the Ring - A.I. : Artificial Intelligence - Waking Life Winner - The Lord of the Rings : The Fellowship of the Ring Best Score Nominees - Moulin Rouge - Mulholland Drive - Gosford Park - The Lord of the Rings : The Fellowship of the Rings Winner - Moulin Rouge