Announcement
NASHVILLE CATHOLIC MIDDLE SCHOOL SOFTBALL</a>
More editing options
NashvilleCatholic Fastpitch Softball Program, based in Nashville, TN, is a middle school softball program. Our program is focused on developing skills, hard work, sportmanship, accountability, achieving potential, and team. The athletes on the roster are working to develop their skills with a goal to play high school softball, and the entire Nashville Catholic program is centered on helping their athletes achieve that goal through hard work, practice, and competitive scheduling. The Nashville Catholic Fastpitch program provides access to a year-round, developmental program whose coaches collectively have over 30 years of playing experience including secondary and D-1 collegiate experience and over 45 years of coaching experience. The program has access to indoor and outdoor facilities for conditioning, training, and playing necessary to build strong, competent athletes ready to compete at the high school and potentially the collegiate level and offers individual and team instruction, a spring school schedule, and supplemental summer and fall game/tournament opportunities to its athletes.
For information about our program contact: Bryan Richter by e-mail at coachrichter.tn@gmail.com or by phone at 615.477.6160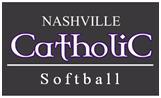 Comments
There are no comments for this announcement.