Announcement
More editing options
Dear Loyal Patriot Fan,
The Terre Haute North Patriot Baseball Team is gearing up for an exciting 2015 season after an unforgettable run for the 2014 4A State Championship Title. We will miss our seniors from our State Runner-­-Up team but are so fortunate to have many returning players as well as new talent that will certainly make this an exciting year.
We take great pride in the history and traditions of the Patriot Baseball program and work hard to make the experience for our players second to none. With changing times and financial cuts from the Vigo County School Corporation, the Terre Haute North RBI Club, our baseball parent focus group, is responsible for raising the money to financially support every aspect of the program from purchasing baseballs, uniforms, and team meals, to field maintenance and facility improvements.
As you can imagine, it is an expensive endeavor to support approximately 50 young men each year that want to create their own high school memories and potentially take their skills to the next level in college. We are turning to you for financial help in supporting our program and these young men's journeys. In return for your loyal support, we would like to have a sponsorship banner made and displayed at the Don Jennings Baseball Field throughout the 2015 Patriot baseball season, as well as the 2015 American Legion summer season.
Please take time to look over the form for specifics. If you have any questions, don't hesitate to contact our RBI Club President, Sallee Collett, at (812)208-­-4290 or sgcollett@msn.com. She would be happy to help facilitate your support.
With sincere appreciation – Fay Spetter Head Coach, Terre Haute North Baseball
**Click here for Sponsor Banner Form**
Terre Haute North RBI Club Board of Directors
Pres. Sallee Collett – Vice Pres. David Bray – Treas. Michelle Murray – Sec. Michele Barrett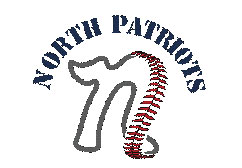 Comments
There are no comments for this announcement.