HOPS is a coed masters water polo club in Houston, TX that trains Mondays and Wednesdays and competes at various local, state and occasional national competitons during the year. Some training sessions may be scheduled at other pools, but will be announced.
News:
See the News section for the latest HOPS news, scrimmages, weather-related or attendance-related cancellations, upcoming tournaments, etc.
Location:
UT-Houston HSC Recreation Center
7779 Knight Road
Houston, TX 77054
2018 Practice Schedule:
Mondays/Wednesdays - 7:00-9:00 PM
- These practices may be modified on a case by case basis. Check the calendar for any changes

Sunday Scrimmages - 11:00 AM-1:00PM; every other weekend
- Check the calendar for scheduled scrimmages
Contact Us:
Send an email to hopswaterpolo@gmail.com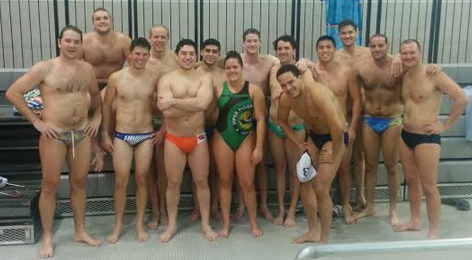 Dates: September 16-17, 2017. Games will begin early Saturday morning and end Sunday afternoon
Host and Location: The event is being hosted by HOPS at the University of Houston Natatorium, 4500 University Drive, Houston, TX 77204. Two courses are planned: a 25 meter (goal line to goal line) course and a 25 yard course
Divisions: Two divisions are planned as Men's and Women's Open
Entry Fee: The event entry fee is $600 per team. Please email your intent to play by Monday, July 31 to hopswaterpolo@gmail.com. However, if you know your team(s) plan to enter, please email your intent to play as soon as possible to help with our event planning.
Entry fees must be received by August 15 to be considered "on time" and guarantee your team's entry and inclusion on the game schedule. Late entry fees will be considered based on space availability, but will not have guaranteed inclusion into this event.
All rosters must be completed online using the verified roster tool at http://www.usawaterpolo.org and must be emailed to hopswaterpolo@gmail.com by September 10. If you are an international team, please provide your country's equivalent verified roster. A confirmation notice will be sent to all emails received for intent to play, entry fees received and rosters received.
Conditions: This is a USA Water Polo, Inc. sanctioned event. All USA clubs, athletes, and coaches must be registered members of USA Water Polo and all international clubs need to have their country's equivalent. Anyone not registered by September 10 must show proof of registration at the tournament before participating in the vent. There are no club affiliation requirements for this event. Registrations will not be accepted on-deck at the tournament. Registered and certified referees will be assigned for all of the games. All roster changes must be submitted to the scoring table at least 30 minutes before the affected team's first game.
Tournament Contacts: Austen and Kristen Oliver, hopswaterpolo@gmail.com
HOPS UPDATE - February 6, 2018
PRACTICES
Practice is scheduled for MONDAY and WEDNESDAY this week from 7 - 9 PM. Please bring your goggles.
UPCOMING TOURNAMENTS
The Spin Lob Tournament is THIS WEEKEND in Austin. The players selected to play in this tournament have been sent an email with the schedule. Please be sure to pay the $60 entry fee and be registered with USAWP (minimum: Bronze)
DUES
Spring dues were due on February 1 in order to keep attending practices. This year, the dues for the fall are as follows:
Spring Season (January 8 - May 11; due February 14)
Regular Member - $175
Student - $75
Annual - $400
USAWP MEMBERSHIP
Everyone planning to attend practices and tournaments needs to renew their membership (BRONZE) for 2017 soon to validate the club liability insurance. Login to your account at the USAWP website and follow the renewal instructions: https://webpoint.usawaterpolo.com/wp15/intralock/login.asp