PARENT/TEAM MEETING:
Friday, November 18th - 7:30 - 9:30 pm
IMPERIAL LANES - GAME ROOM
Please plan on attending this important meeting
MHSAA Division I State Championship Team (2011)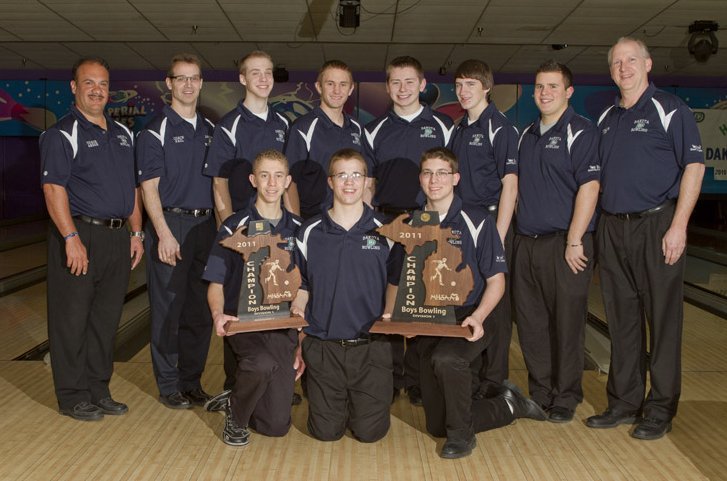 ---
MHSAA Division 1 State Champion Team - 2011
Try-outs @ Imperial Lanes on November 14th and 15th

Check-in at 3:00 PM

B

owling begins at 3:30 PM

4-games bowled on each try-out day

Try-outs are for those who are "serious" about being a member of the Dakota bowling program (i.e. this is not an "open bowling" session)

Physical Form REQUIRED BEFORE TRY-OUTS

Physical form must be dated April 15, 2011 or later

Bowlers without physicals will not be able to attend try-outs

Dakota will be fielding a Boys Varsity/Junior Varsity and Girls Varsity Team (possibly a Girls JV if enough participants)

These teams should not be considered a casual sport (i.e. the coaches expect a high level of commitment from any individual selected)

Bus transportation will not be provided for students when bowling in meets/tournaments.

Arrangements can be made on a per student basis (car-pooling, etc.)

Questions regarding try-outs should be directed to Joe Berak (

joeberak@att.net

).
TRYOUTS NOV 14th & 15th at IMPERIAL LANES
Check-in: 3:00-3:15
Bowling: 3:30-5:30
Please plan on attending BOTH tryout dates
**Athletic physicals required for tryouts dated 4/15/11 or later**