Canfield Varisty Hockey finished the season 11-10-2. Four players received All White League Honors.
!st Team All White - Stone Elias
2nd Team All White - Vincent Hepola, and Brian Woak
Honorable Mention All White - Danny Beistel
_________________________________________________________________________________
Hockey Board Members Elected for 2017-18 season:
President: Kathy Epp
Vice President:
Treasurer: Lisa Hepola
Secretary: TJ Dapolito
Hockey at Canfield... A Proud Tradition
***************************************************************************
The Canfield Cardinals Varsity hockey is in its 18th year as a member of the Ohio High School Athletic Association. The Cardinals compete in the Greater Cleveland High School Hockey League (Blue North Division).
The team has been in existence since 1997 when Dave DeJoe became the first head coach of the "club" team. In 2000-2001 the team was a provisional member of the GCHSHL and eligible for the state playoffs. Joe Villano followed Dave DeJoe as head coach and remained until the 2006-07 campaign. The team's third head coach was Randy Emery for 7 years. Chris Richards now starts his fourth season as Canfield's head coach and is assisted by Joe Villano.
Coach Richards took the reigns after long and impressive playing career. After playing 4 years at Ohio State, Coach Richards played professional hockey for 11 years in the CHL. His coaching style is based on hard work and discipline. Canfield hockey has a bright future under his leadership.
The Canfield Varsity hockey team is self supported and operate through funds raised by the Canfield Hockey Boosters.
ALL Time Records:
97-98 8-0-1 (Club Team)
98-99 8-8-1 (Club Team) 08-09 11-15-0 (3-7) (Blue South)
99-00 16-6-1 (Club Team) 09-10 7-18-0 (1-9) (Blue South)
00-01 3-14-1 (State Eliglible OHSAA) 10-11 9-19-1 (4-7-1) (Blue South)
01-02 10-13-1 (5-7) (Blue East GCHSHL) 11-12 5-21-0 (2-10) (Blue East)
02-03 3-15-2 (2-8-1) (Blue NE) 12-13 3-19-0 (3-10) (Blue Central East)
03-04 8-14-1 (4-8) (Blue NE) 13-14 3-14-0 (1-9) (Blue East)
04-05 6-14-2 (2-9-1) (Blue NE) 14-15 10-10-0 (8-6) (Blue East)
05-06 8-14-2 (2-9-1) (Blue East) 15-16 15-5-1 (13-2-1) (Blue North)
06-07 13-10-1 (6-6) (Blue East) 16-17 8-11-0 (2-8-0) White South
07-08 7-16-4 (2-8) (Blue South) 17-18 11-8-0 (7-3) White South #2
18-19 11-10-2 (6-7) White North - Bruce Anderson Memorial Tournament Champions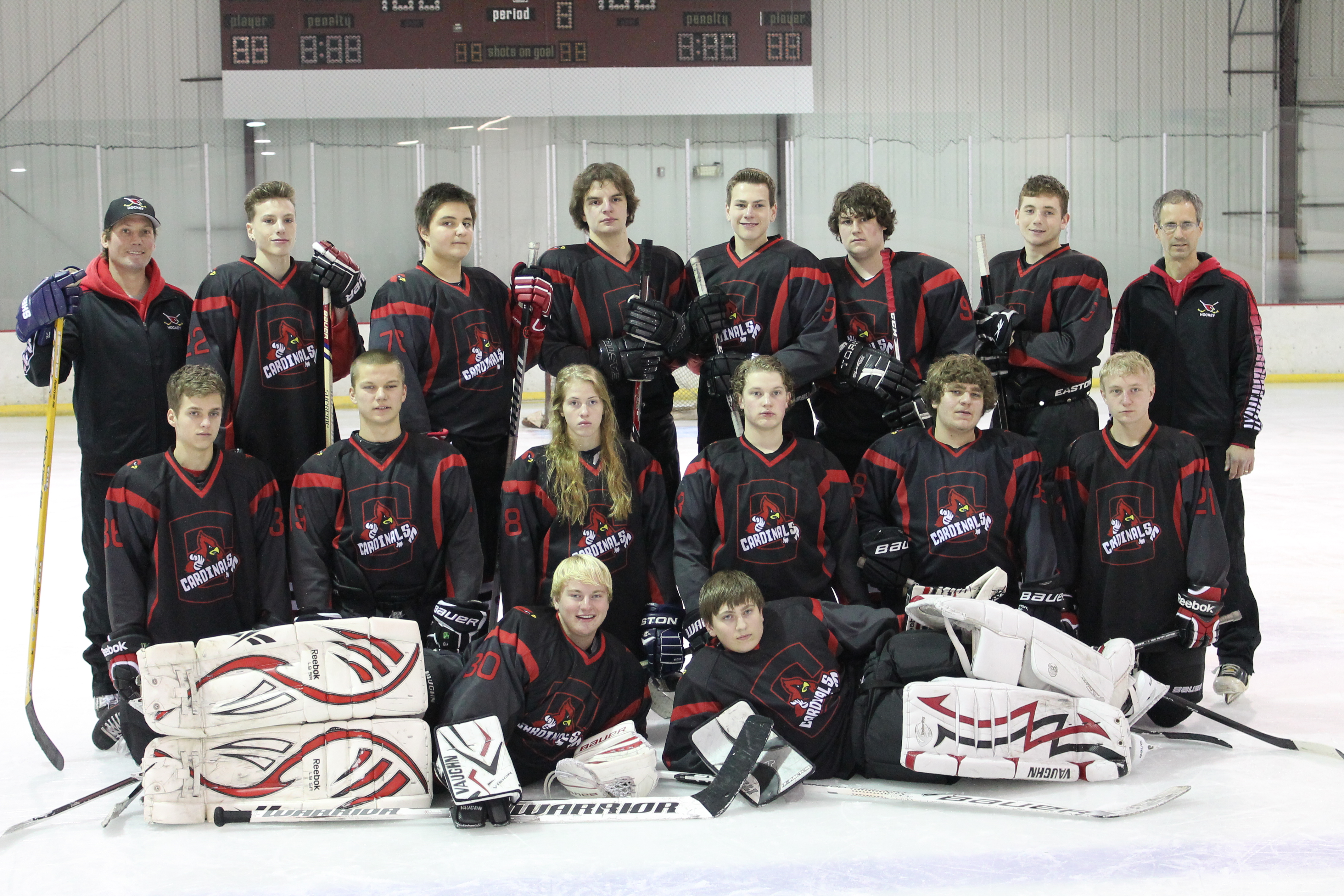 Canfield Hockey
All Time Varsity Records

Most Wins in a Season......16 (2015-2016) 16-4-1




				

 .....13 (2006-07)  13-10-1




						

......11(2017-2018) 11-8-0




			

     .......11 (2018-2019) 11-10-2 


                               ........ 11 (2008-09)  


                               ....... 10 (2014-15) 10-10-0


Most Ties Season .....4  (2007-08)  7-16-4


Most Losses Season ....21 (2011-12) 5-21-0


Most Team Goals  Season  ..114 (2010-11)


                                       ..101 (2008-09)


                                       .. 99 (2014-15) 


Team Goals Per Game Average.......4.95 (2014-15)


Most Goals Allowed Season ..161 (2011-12) 26 games


Least Goals Against Season.....  78 (2018-2019) 22 games 




					

.......80 (2014-15) 20 games


Most Team Penalty Minutes Season.....558 (2010-11)


                               ...... 481 (2008-09)


Most Points Career .....195 Riley Emery (2007-11)


                            ..... 128 Zack Kovacs (2003-07)


                                             ......125 Vincent Hepola (2015-2019)


                            .......113 Joe Geiser (2008-11)


Most Points Season ....   79 Riley Emery (2010-11)


                            ........ 51 Riley Emery (2008-09)


                            ..........47 Braden Falkingham (2014-15


                             ......... 46 Joe Geiser (2010-11) 


Most Points Freshman....  35 Riley Emery (2007-08)


Most Goals Career .....127 Riley Emery (2007-11) (*5th All time OHSAA)

......76 Vincent Hepola (2015-2019)
.......68 Zack Kovacs (2003-07)



			

......... 62 Joe Geiser (2008-11) 


Most Goals Season ........ 52 Riley Emery (2010-11)


                             ....... 32 Braden Falkingham (2014-15)


                             .........30 Riley Emery (2008-09)


                                ......28 Joe Geiser (2008-09)


                                ...... 26 Sam Crowe (2003-04)


Most Goals per Game Ave ......1.88 Braden Falkingham


Most Goals Game .......6 Braden Falkingham  (1-3-15 vs Aurora)


                                 6 Riley Emery (1-8-11 vs Garfield Hts)


Most Assists Career   ............68 Riley Emery (2007-11)


                             ........... 60 Zack Kovacs (2003-07)


Most Assists Season..... 29 Andy Davis (2003-04)


                            ........27 Joe Geiser/Riley Emery  (2010-11)


Most Assists Game....5 Anthony Clendenin (11/29/13 vs Aurora)


Most Penalty Minutes Season..121 Tyler Buchenic (2008-09)


                                           .. 120 Joe Geiser (2010-11)


                                         .....111 Riley Emery (2010-11) 


Most Games Played Career .....99 Sean Meditz (2008-12)


                                      ........ 98  Nick Carney (2007-11)


                                      ........94 Chris Schade (2004-08)


                                      ........93 Riley Emery (2007-11) 


Best Goals Against Average Season 


                                           3.38 Ryan DeJoe (2001-02)


Most Saves in a Season ......772 Roger Geiser (2009-10) (*2nd OHSAA)


Most Career Saves............2407 Roger Geiser(2008-12) (*1 OHSAA)


Most Shutouts Season Goaltender.... 4  Brian Moore (2006-07)


Head Coach's Records:  


Dave DeJoe   45-31-5 (1997-2002)


Joe Villano   38-67-6  (2002-2007)


Randy Emery  45-122-5  (2007-2014)


Chris Richards 55-44-3     (2014-19)