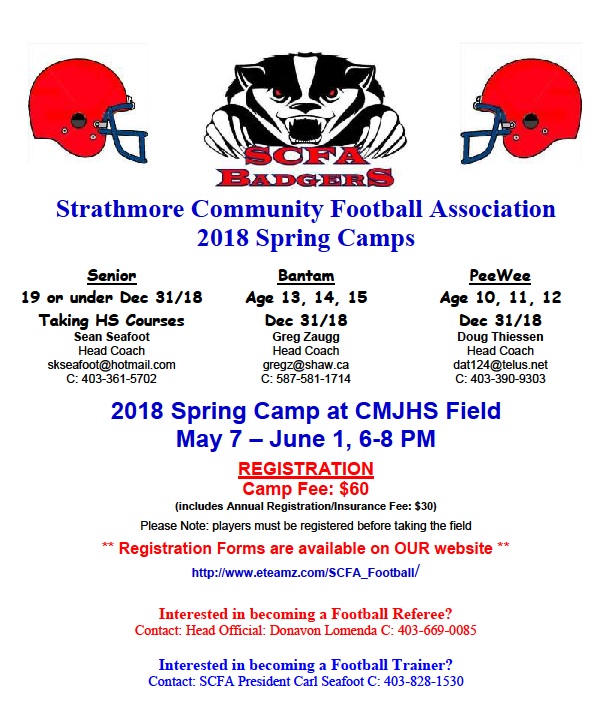 SCFA Executive announced that Greg Zaugg has accepted a promotion from the PeeWee coaching staff to the Head Coach position of the Bantam team. Greg has been coaching with SCFA for a few years and had been the 2IC for PW HC Doug Thiessen.
The Executive was informed by Mike Hopp earlier in the year that although he really enjoyed working with the program and players, that due to employment workload etc he would be stepping down as Head Coach. The Executive thanks Coach Mike for his hard work and dedication while with the SCFA Staff.
SCFA is happy to introduce Mike Hopp as the new Head Coach of the Badgers Bantam team.
Mike brings in a broad playing and coaching experience, which we are happy he is able and willing to share.
Mikes background info..
- 1 yr with Calgary Cowboys Bantam
- 3 yrs with St. Francis High School Calgary earning two MVP lineman awards, O-line juniors, D-line seniors, played in 2 City Championships
- 3 years coaching football in Chestermere, with Chiefs Atom football and Chiefs Pee Wee football
- NCCP certification
- 2 yrs St. Francis Rugby, 1 City Championship, undefeated season and won team MVP
- Scouts Canada leader 5 yrs
- Langdon Soccer coach 4 yrs
Welcome aboard Mike!
FYI Badger fall football will be starting up Aug 14!! See ya there!
With great pleasure the Strathmore Community Football Association (SCFA) would like to announce that two SCFA products have signed with two CJFL teams.
Josh Middlemiss has signed with BCFC's Kamloops Broncos.
Okeem Samuels has signed with PFC's Calgary Colts.
We wish these two players great success in their next step in their football careers and hope them the best!
Congrats to the following Badger Bantam aged players who made it through the Zone 2 Alberta Summer Games tryouts.
Keven Agboro
Noah Desjardins
Reid Jensen
Noah Leys
Zach Palardy
Max Sims
Riley Southern
They will join Coach Sean Seafoot at Zone 2 Team practices in June and at the Alberta Summer Games in Leduc July 14-17.
http://footballalberta.ab.ca/web/programs/summer.php
2016 Alberta Summer Games - Leduc, July 14-17
The 2016 Alberta Summer Game competition will be held in Leduc from July 14-17, 2016. This event is the only multi-sport major games type competition that features tackle football as a participant.