Announcement
Ouzo come from behind to pull off another win
More editing options
SOCCER CITY: ETOBICOKE - Ouzo FC kept their unblemished season going with a tenacious come from behind victory over a physical Mississauga United squad by a score of 4-3. Despite being down 2-0 at halftime, Ouzo did not panic and scored a quick goal to start the half which made it 2-1. Ouzo would pull even before United responded to take a 3-2 lead. Then with Ouzo staring a possible defeat in the eyes, the boys in blue re-focused and scored a pair of goals in the final 8 minutes to claim victory. Man of the Match went to the Tango 12 which recorded its first victory representing Ouzo FC.
Next match action is Sunday at 1045pm versus Ukraine United. This promises to be a tough match as the Ukraine sit in second place and still harbor thoughts of catching Ouzo FC for first place and the much fancied banquet. A victory by Ouzo essentially sews up the league.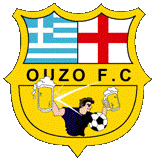 Comments
There are no comments for this announcement.