Announcement
Lady Falcons Knock Off Top Ranked Redmond 8-7
Posted by
Rob OFarrell
on May 14 2014 at 05:00PM PDT in 2019 JV
More editing options
Another perfect evening for our final game of the regular season. We found ourselves up against KingCo leading Redmond out at Hartman Park and our girls were ready for them this time.
We started out quickly with a double by Alena Jones followed by a couple of walks by Alyssa O'Farrell and Kathryn Hatlen, Olivia Riener hits a hard ball to the right side to score Alena. Up 1-0. Redmond would come back quickly in the bottom of the second putting up three of their own.
After a scoreless second by both teams, our Lady Falcons came storming back with a couple more to tie it after back to back hits by Alyssa and Kathryn and with two outs Olivia ropes a 2 RBI double down the right field line. We put two more up in the fourth after Tori Lettus leads off with a nice single up comes Jordan Boyd who launches a two-run home run to straight away center field putting us up 5-3.
Redmond wouldn't go away as they came storming back to score 3 in the bottom of the fourth to once again take the lead at 6-5 but in the top of the fifth Nicole Shavlik walked and was hit in by Kathryn to tie it 6-6. The pressure was getting to Redmond as their infield started to make errors on hard hit balls to get another and Tori took advantage too by stroking an RBI single to put us up 8-6 in the sixth.
Redmond battled back with one in the bottom of the sixth and with a one run lead going into the bottom of the seventh Olivia went right to work getting a quick two outs before Redmond would put a runner at third on a triple. A hard line drive to Melanie Bell in right field would seal the win as she makes a nice grab over her head.
Olivia was on the mound and going right after the Redmond batters all night long punching out two and walking only one.
Woodinville will get the #2 seed behind Redmond going into the KingCo 4A tournament starting this weekend. If this game was a preview then we have some pretty great ball coming up so come out and watch!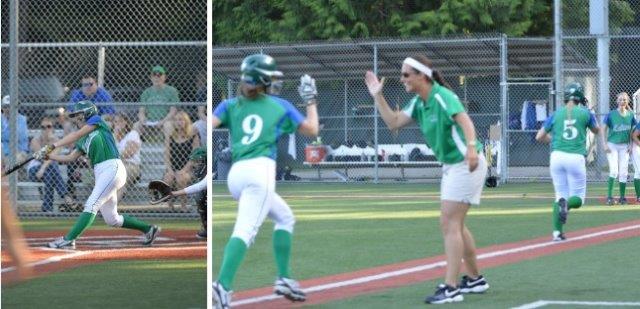 Comments
There are no comments for this announcement.