2007 GROUP II NJ STATE BASEBALL FINALS
Baseball: Somerville-Spotswood scouting report By HARRY FREZZA JR. Staff Writer, Courier News WHAT: Central Jersey Group II final. WHEN/WHERE: 3 p.m. today/White Oak Park, Branchburg. WHO: No. 1 seed Somerville (22-5) vs. No. 2 seed Spotswood (22-4). HOW THEY GOT HERE: Somerville defeated No. 8 seed Ewing 5-1 and No. 12 seed New Providence 2-1; Spotswood defeated No. 7 seed Governor Livingston 12-2 and No. 11 seed Raritan 4-1. SOMERVILLE REPORT The Pioneers have been anchored by strong pitching and defense. Senior shortstop Mike Kaminski, senior second baseman Dan Reynolds and senior first baseman Mike Mottes have been outstanding, along with senior catcher Chris DeMarco and junior center fielder Eric Fowler. Senior left-hander Nick McNamara (9-2) has excellent control and doesn't allow many hits. His losses have come against Bridgewater-Raritan and Hillsborough. He allowed just five hits against Bridgewater-Raritan and six against Central Jersey Group IV finalist Hillsborough. Kaminski also has been reliable in the closer role. SPOTSWOOD REPORT The Chargers have a busy two days, playing in the Greater Middlesex Conference Tournament final Saturday against J.P. Stevens. Senior ace right-hander Will Beard (10-1, 1.76) is scheduled to start that game. Today's starter will be senior right-hander Mike Hohman (6-1, 2.07). Hohman, who picked off 10 runners this year, three-hit Middlesex during the regular season. He has struck out 33 in 40 2/3 innings and has walked 10. Hohman leads the team with a .506 batting average. Senior John Michael Berner leads a powerful lineup with six homers. The Chargers are batting .374 as a team.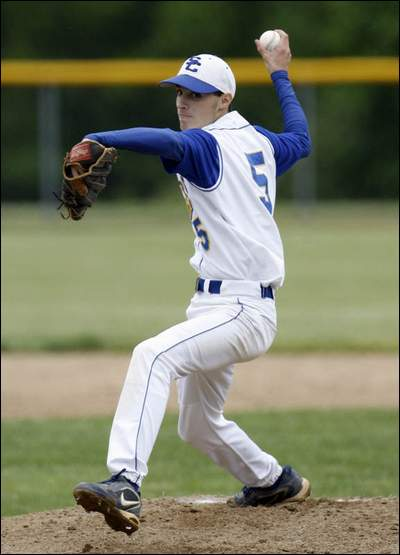 CLICK ON ANY TOURNAMENT HEADING TO SEE THE BRACKETS FOR THAT YEAR'S STATE TOURNAMENT:
**DIRECTIONS FOR CJII FINAL VS. SOMERVILLE**

AT WHITE OAK PARK, BRANCHBURG NJ

Take Rt. 22 West past the Somerville circle (rt. 202/206).  You will pass the Met Life building on your right.  Shortly after, you will see the Viva building on your right- take this jughandle for Readington Rd.  Cross back over rt. 22.  Approx. 2 miles on the left, you will come to Baird Rd (it will also say White Oak Park on the street sign).  Make the left and the park will be on the right hand side.  Pull in and go to the back for the field.
The Chargers reached another milestone on this Tuesday morning, cracking the elusive Newark Star Ledger's Top 20 for the first time in school history. Hoping to improve their status on this decorated totum pole, Spotswood takes on 11th seeded Raritan in the Central Jersey Group II SemiFinals today in Spotswood. A win will advance the Chargers into the Central Jersey Title tilt on Friday vs. Somerville. A win for the championship will ensure the school record for victories in a season. On Saturday, June 2nd, the Chargers already have a date with JP Stevens of North Edison for the Greater Middlesex Conference Tournament Championship. STAR LEDGER NJ TOP 20 1-Seton Hall Prep (28-1) 2-Don Bosco Prep (23-1) 3-Immaculata (22-1) 4-Passaic Valley (28-2) 5-Steinert (25-3) 6-Christian Brothers (20-4) 7-Ocean Township (21-4) 8-Hillsborough (17-4) 9-St. Joseph (Mont.) (21-6) 10-Toms River North (23-4) 11-Phillipsburg (18-5) 12-Hunterdon Central (22-6) 13-Randolph (21-7) 14-Cranford (23-4) 15-Wall (20-5) 16-West Deptford (22-6) 17-West Windsor North (22-4) 18-Delbarton (22-4) 19-Spotswood (21-4) 20-Cherokee (24-5)