A look at the Chargers' lengthy rise to glory
BY DOUG McKENZIE
Staff Writer

So how did they do it? How did the folks at little Spotswood High School cultivate one of the top five high school baseball teams in the state of New Jersey?
Well, they didn't.
At least, not by themselves.
While some of the elite programs around the state (and we all know who we're talking about here) can routinely field championship-caliber teams simply by reloading every year with the best incoming talent from their respective surrounding communities, small schools like Spotswood High School don't have that luxury.
Simply put, they are forced to play with the hand dealt to them. Sometimes, that hand is good enough to put together a competitive season, complete with a division title, maybe even a productive run in the conference and state tournaments.
But four championships in one season? This year's Chargers not only ran away with the Greater Middlesex Conference Blue Division title, they went on to add their first GMC Tournament, Central Jersey Group II and overall Group II titles, and in dominant fashion.
To the outsider, it would appear all the pieces fell into place at the right time for this Charger team. But those close to the program know better.
This was not simply a good team getting hot at the right time, and riding that good fortune all the way to glory. This was all part of a master plan set forth over eight years ago by a group of parents and coaches with the foresight to recognize something special when they saw it.
While ultimately it was the players themselves who won four championships this spring with their inspired play on the field, they'll be the first to tell you - there's a lot of people who helped create this championship team.
"This is bigger than the program," Spotswood head coach Glenn Fredricks said. "This came from the help of the entire town and community."
And it all started in Little League.
Recognizing potential
Back in 1999, John Berner was coaching an all-star team for Spotswood Little League. In nearby Milltown, Jim Beard was doing the same for an all-star team in his town.
It was always a special rivalry shared between the two leagues, since the players knew that eventually they would be teammates at the high school level.
"It was two different Little League districts with seven miles of East Brunswick in between until 1999," Fredricks, himself a former Spotswood Little Leaguer, said.
With the two teams becoming increasingly familiar with each other, it occurred to Berner and Beard that by combining some of the top players from the two teams, they would be creating a local powerhouse, capable of playing with the very best teams throughout Middlesex County.
"We were playing in tournaments and kept meeting up with each other in the finals," Berner said. "So at some point, I contacted Jim and we talked about combining the two teams. It resulted in Willie [Beard] and Anthony [Addone] coming to play with our guys."
"They put us together when we were 9-year-olds," said Beard. "We played against each other before that, and we knew that we'd be playing together in high school and that we'd be friends."
"We played against them on separate tournament teams and we could tell right away who the best players were," Berner's son, John Michael, said. "My dad said, 'We've got to get these kids to play with us.' "
"It was a little awkward at first, but once we won our first tournament together it was like we'd been playing together for years," John Michael added. "After that win, it seems like we won every tournament we entered at that level."
Fredricks credits the parents with having the vision to recognize a good opportunity when it presented itself.
"They've had the kids playing together for all these years now, and it's done unbelievable things for the guys," he said. "It took the willingness of a very solid group of parents who were willing to work for the betterment of the kids. A set group of parents from the two Little Leagues got together and did the right thing for the kids."
Once united, the combined Spotswood team quickly asserted itself as one of the elite Little League all-star teams in the area, routinely competing against teams in older divisions, and from bigger towns with deeper talent pools, as a means of preparing them for the next level.
"That was always our main focus, to get them ready for the next level," Berner said. "We had two stud pitchers in Willie and Danny Hohman, so we could compete against the older teams. Willie would start, and then Danny would come in and finish it off."
By the time they were 12-year-olds, the Spotswood players were already thinking about playing at the high school level.
"All we talked about while we were winning tournaments as little kids was that we wanted to do it at this level," said Michael Hohman, the 2007 Chargers' lead-off hitter, and one of the top offensive players in the entire state.
In 2001, when the players were 12-year-olds, coaches Berner and Beard took their team to the GMCT Tournament final between Spotswood and Edison, won by Edison.
"We were at the GMC finals when Spotswood was playing and our coach talked to us and said, 'When you guys are seniors I expect to see you there,'" Mike Hohman recalled.
Apparently, they were listening.
Reaching their potential
Upon reaching high school in 2004, the dream of winning state championships began to take form.
"When we got to high school we said we were going to take it all," John Michael Berner said.
While some of the group immediately played varsity ball for manager Bill Toncic, it wasn't until Fredricks took over the team in 2005 that the reunited Spotswood six (the Hohman brothers, Beard, Addone, Berner and Phil Spina) helped create the foundation for this year's championship team.
Unfortunately, they had to take on the challenge without the services of Danny Hohman, which was a huge blow to the team.
"Danny was just as good as Mikey," Fredricks said, adding that he considers Mike Hohman to be the best player in SHS history. "But he was battling a brain tumor near the end of his sophomore year, and he's been battling ever since. It's certainly taken its toll on him, but make no mistake, he's been with the group every step of the way."
Over the next two years, Spotswood emerged as one of the better teams in the GMC. Last season, the Chargers finished 19-5 and won the Blue Division title with an 11-1 mark. They also reached the CJ Group II finals, where they fell to Governor Livingston (a loss they avenged in the second round of this year's tournament, 12-2).
But while learning lessons on the high school ballfields, the Spotswood players were getting equally valuable experience during the summer, playing on one of the state's very best Senior American Legion teams, the Milltown Post 25 squad that won two straight Middlesex County Southern Division crowns in 2004 and 2005 before finishing a game back of South Brunswick last summer. Milltown Post 25 has become a regular in the Senior Legion state tournament over the past few years, along with several other teams from Middlesex County.
The Milltown Senior Legion team has given some of the Spotswood players the opportunity to share the field with some of the very best players the GMC has seen over the last four years, hailing from towns such as Spotswood, Milltown, East Brunswick and South River.
While some people question why Fredricks invites college-age players to come back and compete, the coach is quick to point to the benefits of fielding such a competitive team.
"There's two schools of thought there - the Shore [Conference] way, where you take all your graduating seniors and college freshmen and send them packing; and then there's our way.
"People ask me why I take East Brunswick and South River kids and seniors and college players on our teams, and the reason is because this is an elite all-star team, and I'm going to run it as an all-star team, not a high school feeder team. That's what my Junior Legion team is; that's the developmental team.
"Without players like [East Brunswick's] Chris Affinito and Andy Anderson playing with us, we wouldn't have reached the highest levels that we did. And those levels provided our players with the highest quality baseball experience we can get them. There's plenty of opportunities for the younger guys to learn at the junior level."
It's hard to argue with Fredricks' logic, especially when you look at how the players who saw substantial time on the Legion team matured over the course of their careers at Spotswood.
"It's such an advantage because it gives you some experience in big games, and in games like that, experience is the biggest advantage you can have," Willie Beard said.
Coaching to your strengths
Fredricks' arrival at Spotswood, along with his brother, Danny, who has also been a big part of the Milltown Post 25 team's success, added a spark to the Charger program.
As a Spotswood native (he graduated from Immaculate Conception in 1990 and Spotswood High School in 1994), Glenn Fredricks knew many of the players he was coaching, and used his off-the-field relationships to help create an even more united front within the Charger team.
"I've known him since I was a little kid," John Michael Berner said. "He's like a big brother to me. He told me by the time I was a senior I was going to be wearing a [championship] ring. And pretty soon I'll be wearing that ring. He's the prophet."
Fredricks' fiery, aggressive coaching style proved to be the perfect match for the talented, athletic Spotswood team.
And his players are quick to give him equal, if not the majority of the credit, for their success this year.
"He was by far the biggest factor (in our success)," John Michael Berner said. "He might have won five or six games for us with the right calls this year."
"He's helped us tremendously, especially in the close games," added Mike Hohman. "He always made the right call. His influence was big because we're still a bunch of 17-year-olds. We couldn't have done any of this without him."
"He was the key to the entire season," Beard said. "He pulled us all together and pushed us to do better. He has such a passion for the game and his players. He has such raw emotion about the game and he passes that on to us."
"This year we put in a lot more effort," Mike Hohman said. "After we lost to Governor Livingston in the states last fall, Glenn really pushed us to become better.
"There's no one in the world I'd rather have coaching me."
Addone, the team's catcher who often took the brunt of Fredricks' yelling when pitchers made mistakes, said that Fredricks' coaching style is what helped him become a leader on the field.
"It was frustrating at times, because a pitcher would shake me off and make a bad pitch, and Glenn would come after me," he said. "But I learned to take it and how to handle it and it made me a better player. He knows a lot about the game."
Just as the Charger players are quick to praise their coach, Fredricks is equally swift in sharing the credit with the members of his coaching staff, among others.
"Chris Ferrone (now an assistant at Point Pleasant Borough, where he lives) was an excellent coach that had these guys as sophomores in 2005," Fredricks said. "He taught them the game exactly the way I was teaching it, which made their transition to the varsity game even easier.
"And my brother, Danny Fredricks (a volunteer assistant), is my pitching coach. He makes all the mechanical adjustments and teaches them the mental aspects of the game. To have someone like Dan involved with our program as a volunteer is something you can't put a value on. I'd be lost without him."
Fredricks also praised the contributions of Matt Ardizzone, who came up from his home in Asbury Park every day to work with the hitters the previous year. "I turned over all of the hitting responsibilites to Matt last year. We missed him but these kids still have a lot of Ardi in them."
"Apparently it paid off because we hit .370 as a team this year," the coach said.
Mike Brushini, an All-American shortstop at The College of New Jersey, was a varsity assistant this year, and helped numerous players hone their skills, including Berner, who credited Brushini with helping him "be more fluid in the field and look more fluid."
Former South River standout Mike Feaster, who also graduated from TCNJ earlier this year, also joined the Spotswood staff this year as the freshman coach.
"He's been an unbelievable addition to the staff," Fredricks said. "We're lucky to have him."
The coach also credits several former players who have come back over the last couple of seasons to contribute in any way they could with nurturing this talented group of players, as well as Pete Mangarella, the baseball coach at Joyce Kilmer Middle School in Milltown, and Larry Fry, the coach at Memorial Middle School, and the coach of his Junior Legion team.
Apparently, there's plenty of good advice and guidance to go around in this community.
You can only teach them so much
In the end, however, it all comes down to performance.
You can put the kids in position to succeed, but you can't do it for them.
Fortunately, for all the aforementioned people who helped groom this year's Charger team, the players rewarded them with the highest level of baseball imaginable.
Offensively, the Chargers' numbers were off the charts. Beyond the team batting average of .369, it was the team on-base percentage (.453) that scared opposing coaches.
"When every other guy is finding a way to get on base, it's tough to beat us," Fredricks said.
The Kean University-bound Mike Hohman was the catalyst of the Charger offense, putting together a season that is certainly worthy of all-state consideration. With a .484 average (45-for-93), and an OBP of .580, Hohman reached safely in all 30 games, hit safely in 16 of his last 17, and had 14 multihit games, while also walking a team-leading 24 times. With a team-leading 43 runs scored, he reached home in all but four games this year (and in all but seven over the last two years), and graduates Spotswood as the career leader in hits (115) and runs (109) as well as stolen bases (46).
"And any time the ball got away from the catcher, even a couple of feet, he would advance," Fredricks said. "Some schools count that as a stolen base, though we don't."
Hohman was equally brilliant in the field, committing just one error at second base on the year, and just four over his four varsity seasons.
But the Charger offense had plenty of firepower beyond Hohman.
Sophomore outfielder Joe Petosa sported a .409 average (38-for-93), with 13 extra base hits, 12 stolen bases and 29 RBIs, while Addone, a Bloomfield College-bound slugger who Fredricks called his "coach on the field," hit .393 (35-for-89), with a team high 32 RBIs on the year.
Junior Mike Collins made his varsity debut a successful on with a .388 average (33-for-85) with 20 RBIs, while freshman Cody Pace hit .375 (30-for-80) with 15 RBIs.
New Jersey Institute of Technology-bound Berner put together another productive year, hitting .360 (32-for-89) with a team highs with seven home runs, 11 doubles and 32 RBIs, while junior first baseman C.J. Mooney hit .346 (28-for-81) with two home runs and 17 RBIs.
Senior center fielder Phil Spina finished his stellar career with a .341 campaign (28-for-82), while seniors Brian Curci, Ricky Kuhn and Brian Scott also contributed some big hits over the course of the year.
Pitching wins championships, and the Chargers had plenty of it, led by the Rutgers-bound Beard, who was as good as anyone in the state this year. In a 12-1 season, which included a perfect game (against Metuchen), a no-hitter (against East Brunswick), two one-hitters, 10 complete games, four shutouts and six double-digit strikeout efforts, Beard pitched to a 1.93 ERA, striking out 110 batters and walking just 36. He allowed just 54 hits in 79 and 2/3 innings or work, and got the ball nearly every big game the Chargers played, beating numerous defending state championship teams along they way, and getting the win in both the GMCT and Group II title games.
Mike Hohman was pretty impressive himself, pitching to a 8-1 mark, with seven complete games, two shutouts (including one in the CJ Group II final), an two saves. Hohman, whose ERA was 1.86 on the year, gave up just 54 hits in 52 and 2/3 innings of work, and like Beard, beat several defending state champs along the way, while also posting the win in the Chargers' Group II semifinal win.
Also pitching well for the Chargers this year were junior T.J. Snook (2-2, 2.96 ERA in 26 innings or work), while Mooney, sophomore Jon Martin and junior Nick Brown helped out on the hill.
Danny Hohman provided one of the many highlights of the season when he made his triumphant return to the team on May 22 and beat Henry Hudson, 5-2, going five innings and allowing just two earned runs.
"He's the toughest kid I know," Fredricks said of Danny Hohman. "I don't know if I could have gone through all that he has and maintain the attitude that he has. There were a lot of great moments this year, and that day was right at the top of the list."
That feeling, shared by the entire Spotswood team, speaks volumes for the sense of brotherhood and camaraderie that surrounded the Chargers from the very beginning of spring workouts.
To a player, the Chargers believed this was their year, and they weren't going to let anything get in their way.
"I've been playing with these guys since I was little," John Michael Berner said. "And you always know that if you have an 0-for-3 day, someone's gonna pick you up. If our 1-4 hitters didn't hit, the 5-9 guys did, and vice versa."
"With the way we played together when we were little kids, we always had each other's backs," Mike Hohman said. "That's what happens when you know each other for so long."
"If someone made a mistake, there was always someone there to pick him up," added Beard. "We're all friends who genuinely like each other. It's just a special group of guys."
And it has been, for going on nine years now.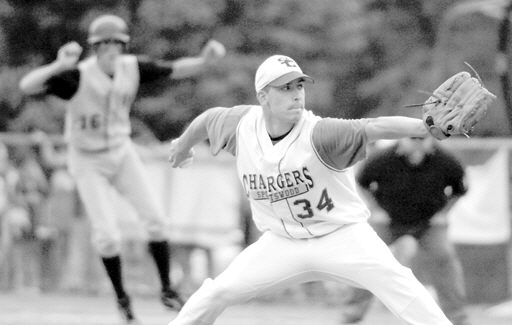 CODY PACE- 1ST TEAM ALL NJ GROUP II
JOE PETOSA- 2ND TEAM ALL NJ GROUP II
THE MATRIX RE-BOURNE
THIS IS THE FIRST GROUP OF SENIORS WHO HAVE FULLY EXPERIENCED THE MATRIX. THEIR RECORD LEAVING SHS FOR 4 YEARS...... 76 W, 27 L
CJ MOONEY*** (MIDDLESEX CC)
MIKE COLLINS** (MIDDLESEX CC)
BRETT BROWN
TJ SNOOK
2008

OVERALL

DIV

RED

W

L

T

W

L

T

EDI

21

5

0

11

3

0

JPS

17

8

0

10

4

0

OB

16

9

0

9

4

0

SB

12

9

0

7

5

0

STJ

19

10

0

7

7

0

PIS

8

13

0

5

9

0

WOOD

11

14

0

4

9

0

EB

4

16

0

1

13

0

OV

DIV

WHITE

W

L

T

W

L

T

MON

17

10

0

10

4

0

COL

14

8

2

9

3

2

CAR

13

10

0

9

5

0

SAY

13

10

0

9

5

0

No. B.

9

12

0

8

6

0

SP

11

14

1

6

7

1

New B.

9

14

0

2

12

0

PA

4

17

1

1

12

1

OV

DIV

BLUE

W

L

T

W

L

T

JFK

22

7

0

11

1

0

BA

15

4

0

11

1

0

SWOOD

14

9

0

7

5

0

MET

14

10

0

6

6

0

MID

8

16

0

4

8

0

SR

6

15

0

2

10

0

HP

3

18

0

1

11

0

OV

DIV

GOLD

W

L

T

W

L

T

DUN

15

10

0

10

0

0

SA

8

7

0

6

2

0

CMc

7

11

0

6

3

0

PA T

10

10

0

4

5

0

EB T

6

10

0
2008 NJSIAA GROUP II BASEBALL PLAYOFFS