Announcement
2009 SCHEDULE IS RELEASED
More editing options
SHS TO FACE NEW JERSEY'S BEST IN 2009
The 2009 schedule is now available, and it appears to be jam packed with games versus rivals, and against several of the best teams New Jersey has to offer. The Chargers begin the 1st year of the 2 year GMC scheduling cycle back in the Blue Division, but their friends from Iselin move into the White Division, taking half of last year's title with them. Last year, the Chargers failed to win the Blue for the first time since 2002. While the league schedule is a bit less daunting (6 teams, 10 games), the non-league schedule is top notch.
While SHS continues its' rivalry with Kennedy (Sat., April 18 at home), they also revive some old battles. Colonia is back on and will meet the Wood on April 25th out at North Brunswick Community Park as part of the 2nd annual GMC Autism Awareness Day. Game time is slated for 6 pm.
Perennial Red Division power Edison will be up on April 3rd. The teams last met in 2006 with Edison winning at SHS. Other inter-division matchups include Stevens, East, North and South Brunswick, Woodbridge and of course the annual "game" vs. Monroe Township (5/11 at MTHS).
The non-league schedule is packed with some of the state's best. Spotswood will lock up with both sides of last season's Group IV final when defending champion and NJ #2 ranked Hunderton Central visits on May 1st, and travel to Annandale to meet North Hunderton on May 18th. The regular season finale will be played once again at Healthquest Park in Flemington vs. the Immaculata Spartans. IHS will look to avenge last season's upset by Spotswood, a thrilling 7-6 9 inning game last May.
This year, Spotswood will also face Monmouth County foes Holmdel (Sat., 4/4 H) and Freehold Township in the Shore Challenge. SHS is 2-0 all-time in the event which will be at Brookdale C.C. in Lincroft this year (Fri, 4/17 10am).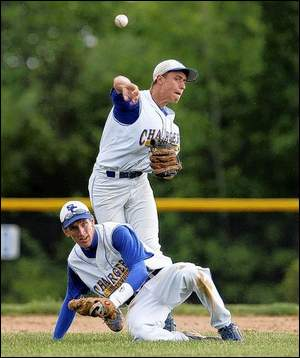 Comments
There are no comments for this announcement.