Announcement
STAR LEDGER STATE FINAL RE-CAP
More editing options
Spotswood cruises by Indian Hills, 11-1
Sunday, June 10, 2007
BY GREGG LERNER
For the Star-Ledger
The conference down the third-base line with batter CJ Mooney lasted all of about five seconds but proved more than enough time for Spotswood coach Glenn Fredericks to reinforce the underlying philosophy that's been at the core of his offense's success.
"Coach asked me the count and I told him it was 2-1," Mooney said. "He told me he was going to bring a fastball to me and to crush it."
It's that type of encouragement, to be aggressive when the time is right, that has been music to the Spotswood hitters' ears. And, Mooney made Fredricks look prophetic when he unloaded a three-run homer on the ensuing pitch.
The blast was part of a six-run outburst in the top of the third that not only served as a testament to the rewards of assertive baseball but launched Spotswood, No. 15 in The Star-Ledger Top 20, to a 11-1 victory in five innings over Indian Hills (23-9) for the NJSIAA/Star-Ledger Group 2 state title before 400 at Toms River South.
It was a combination of its smart, attacking style, which led to nine hits, and the sustained pressure of baserunners in that pivotal third inning that helped Spotswood (26-4) capture its first state championship.
Ten batters marched to the plate in the inning and generated four hits. But the active play on the bases induced four errant throws on attempted pickoffs as well as two misplayed fielding chances by Indian Hills.
"They are a well-coached team and I don't think they gave us anything," Fredericks said of Indian Hills. "I think the pressure we put on them may have caused all the errors."
Mike Hohman and Anthony Addone had consecutive singles for Spotswood to start the game. John Berner followed with a RBI double and Mike Collins added a run-scoring ground out for a 2-0 lead.
In the third, Spotswood scored twice on errors before Mooney connected on his blast, a lined shot to left that extended the lead to 7-0. Another unearned run in the frame increased the advantage to 8-0.
"That was certainly not characteristic of us," Indian Hills coach George Hill said of the six errors in the inning. "I thought we were loose and ready to play. We got some great hacks at the plate and went up there swinging, so I don't chalk it up to nerves. It's just one of those things."
Adding to Indian Hills' plight was Willie Beard. The senior right-hander, who is heading to Rutgers, put the finishing touch on his high-school career by firing a three-hitter. He struck out only two and walked three but showed faith by working to batters in order to rely on his defense.
"It wasn't the optimal performance I would've liked," Beard said. "But I got the job done and the team loaded me with run support. That was definitely a plus."
Berner, who finished 2-for-2 with three RBI, belted a two-run homer to right in the fourth and Mooney tacked on a RBI groundout to pad the cushion to 11-0.
"Glenn taught us from the beginning to play all out," Berner said. "After we started the game with three hits, and with Willie on the mound, we just knew it was our game."
Ramee Yacoub broke up Beard's bid for a shutout when he led off the fourth with a home run to right. Jared Avidon then doubled to center, but Beard regrouped to retire the final six batters to lock up the triumph.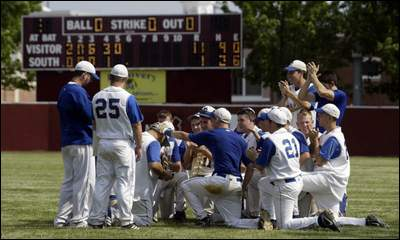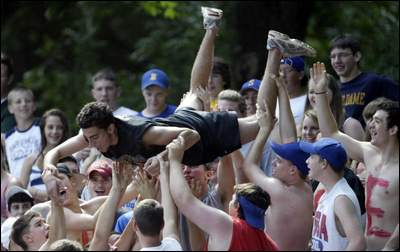 Comments
There are no comments for this announcement.