IRVINE, CA - Novaquatics Masters Swimming and Multisports Orange County Head Coach Michael Collins will be teaching several triathlon technique classes for the City of Irvine. Here are some quotes from people who have taken the class: "I just wanted to let you know that the swimming class has been great. I think the combination of classroom videos and in-pool drills and coaching have been VERY beneficial. The locker room chatter that I've heard from some of the other participants echoes my sentiments. Thanks!" - Annie Below is a listing of classes, details, and links to register:
Beginning Swimming Techniques for Triathletes
March 16 - April 20 (6 weeks) Wednesday Evenings 6:30-8:00pm Course #27036 Phone Info: 949-724-6717 Registration online begins Feb 21 at:
www.irvinequickreg.org/
DESCRIPTION: The class will cover the following topics: Core Stability, Body Alignment, and Strength needed for swimming, Basic Comfort in the water, Freestyle Swimming Mechanics, Breathing Patterns, Techniques & Skills needed for open water swimming including: - Dolphining, Navigation, Sight Breathing, Drafting - Dealing with large crowds, Open Water Strategies and Tactics
Running Efficiency & Training
Tuesday Evenings 6:30-8:00pm Mar 8 - April 19 (6 weeks) Course #24272 Phone Info: 949-724-6717 Registration online begins Feb 21 at:
www.irvinequickreg.org/
DESCRIPTION: Would you like to enhance the running portion of your triathlon? Interested in the techniques and training methods to run a faster in a 5K or 10K? Classes include a brief lecture followed by a running technique session. The class will include: techniques to run faster using less energy, running video analysis at the beginning and end of the program, building fitness and endurance, pacing skills, heart rate training, core strength and flexibility to stay injury free, sports nutrition ideas, and more!!
Triathlon Cycling Techniques & Training
Thursday Evenings 6:00pm-7:30pm April 21– May 26 Course #: 24307 Phone Info: 949-724-6717 Registration online begins Feb 21 at:
www.irvinequickreg.org/
DESCRIPTION: Learn all about cycling for a triathlon. Class includes both lecture time and on the road practice. The following topics will be covered: bike equipment selection, bike fit for maximum efficiency, bike handling skills, climbing, descending, and shifting skills, training techniques and programs, and HR & power training concepts for cycling.
ORANGE COUNTY, CA - Coach Michael Collins and Fleet Feet Laguna Niguel owner Scott White have combined resources to start a new multisports training and racing program in Orange County. Collins, who is also the Head Masters Swimming Coach for Irvine Novaquatics, has an extensive 20 year background in triathlon racing and coaching. For more details on his coaching experience click
here
. Scott White opened
Fleet Feet Sports
in Laguna Niguel in October 2004. The shop is a service oriented shop where the employees all train and compete and have a better understanding of how the products function than you will find in a bigger sports store chain. The goal of the program is to offer the highest level of technique instruction and training for swimming, cycling, and running at a reasonable price. The program will help people improve and enjoy the process of training to reach personal excellence in competition. The club's motto is "Practice with Purpose", and an emphasis is placed on learning to do each sport correctly before training harder to ensure longevity and staying injury free. Once good mechanics for each sport has been established the focus changes to heart rate management, pacing, and sound training cycle principles to continue to help athletes get faster. The program includes several coached training sessions a week as well as good online communication with specific practices to do in preparation for key team events. The club will also feature an elite team of athletes that will compete both locally and in major national and international competitions.
SPECIFICS OF THE PROGRAM
Coached Practices
The program will offer weekly coached practices spread throughout Orange County, with more structure and details than the average tri-club workout. The practices will focus on specific skill development like climbing stronger, cornering faster, pacing, increasing raw speed, heart rate management, and more. Most practices are coached by USAT Certified Coach
Michael Collins
. Special technique lessons and video analysis sessiona are also available. To see the practice schedule visit the
CALENDAR
section on the website.
Fleet Feet Monthly Clinics
Fleet Feet Sports Laguna Niguel will be hosting a monthly Mini-Clinic with topics everyone from a newby triathlete to elite level racer will find useful. The clinics are free to program members and $20 each for visitors and guests. All clinics will take place on Monday evenings 6:45-8:00pm, at Fleet Feet Sports, 32411 Golden Lantern, Laguna Niguel, CA 92677
Clinic schedule Jan-April 2005
Jan 17 Training Concepts for an Ironman & Half Ironman Feb 21 Using Heart Rate Monitor Training To Improve Mar 21 Training Concepts for a Sprint or Olympic Distance Apr 18 Training Concepts for an Xterra Race To RSVP a spot for any of the clinics click
HERE
or call the store at 949-488-3356
Monthly Practices via Email
Monthly practices for swim, bike, and run are sent out at the begining of each month. Specific race preparation programs for sprint to Ironman distance, and for beginner to pro caliber.
Additional Benefits
Shoe, apparel and race entry fee discounts from
Fleet Feet Sports
in Laguna Niguel. The club will also feature an elite team of athletes that will compete both locally and in major national and international competitions. For online registration info for the program click
HERE
. To ask specific questions about the program email
Coach Mike
or
Scott White
.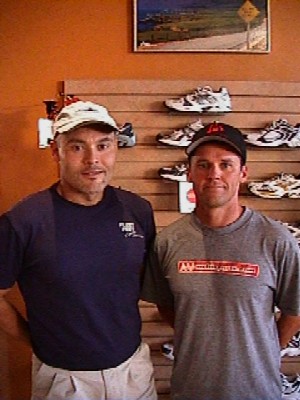 TEMECULA, CA - The Fleet Feet/Multisports OC gang had a great weekend at the Xterra West Championships at Vail Lake, May 14-15, 2005. Scott White & Louis Bednar headed out early on Thursday in the CruiseAmerica Motorhome to stake out the "Fleet Feet Xterra Base Camp" and the rest of the gang trickled in and out through the weekend. Click here for
FULL RACE RESULTS
Click here for
TEAM PHOTOS FROM THE EVENT
Below are the event by event highlights. =======================================================================================
5K SCRAMBLE
Saturday morning was the 5 & 10K scramble events. Some decided to run it to check out the course for the next day. The 10k started 2 minutes before the 5k so Coach Michael Collins had some traffic to get through passing the 10k'ers on his way to an overall win in the 5k. The course was certainly not fast as his winning time was about 5 minutes slower than his regular 5k time. The course started with an extremely steep "wall" climb to start and then went over some steep undulating rollers before dropping down into a creek bed for the last two miles. Most would be happy to run in a flat creek bed except it was all deep sand with several submerged rocks (like the one Rusty found on the Xterra Sport Run) Karen Mastro won her 50-54 age group. Michele Brown was 3rd in 25-29 and even decided to run a 2nd lap for training with "carpool partner" Alli Garland who was taking "baby Brooke" for her first race. 1 Michael Collins 30 - 39 Irvine, CA :21:40 06:59 14 Michele Brown 30 - 39 F :31:43 10:13 26 Karen Mastro 50 - 59 F San Dimas, CA :43:04 13:53 =======================================================================================
DUATHLON: 3k Run - 15k Bike - 5k Run
New Multisports OC member Leon Laub drove out for the day to do the Duathlon on Saturday. Leon placed 23rd overall and 3rd in the 45-49 age group despite some bike troubles and a crash. 23 Leon Laub #58 45 - 49 :17:20 1:04:49 :27:48 1:49:57 =======================================================================================
XTERRA SPORT: 750m Swim - 15k Bike - 5k Run
Multisports OC "Wimp" Coach, Michael Collins, decided to downgrade from the full Xterra race to the Sport after reviewing the course and finding out he would start in the 4th wave at about 11am the next day in the heat of the day. "I have nothing to prove", Coach Mike said. "I race for the fun of it, and being out there for 3 hours in the heat fighting for the best lines on a single track with a bunch of other athletes I am trying to pass or get passed by, doesn't sound like much fun. I can't even fathom trying to do the second lap with that massive climb in the hottest part of the day." It looks like he made a good decision, as the 8am start featured glassy swimming conditions and warm, but not horrendously hot, conditions for the one lap bike and run course. Collins emerged from the 750m swim in 1st place by nearly 40 seconds, but gave nearly all of it away putting on his mountain biking gear including: socks, shoes, sunglasses, helmet, camelback and mountain bike gloves. "I have much better transitions in road tris because I don't put all that stuff on. I usually just put on my helmet and run out and can get my shoes on as I ride, but in a mountain race I really need the gloves for safety and I'm too afraid to take my hands off the bars to drink from a bottle. Plus the bottle usually tastes like dirt! If I crash I just try to land on my Camelback so it's like landing on a water bed." Collins left onto the bike with only a 10 second lead but quickly pulled to an insurmountable lead by the top of the first major climb from the lake. "My strategy was to really work the climbs because I'm not so brave on the descents. My heart rate comes down when I descend because my skills won't allow me to hammer going downhill. Also, I learned my lesson at the Castaic Big Blue Xterra where I did not pre-ride the course and crashed 5 times. I rode this course several times and knew where to change gears and what the best lines to take were. I only had to come off the bike once to get up a short steep section right after a deep sand section." Collins CRUSHED the field winning by nearly 10 minutes with the days fastest swim, bike, and run splits. His run split was 10 seconds FASTER than his winning time in the 5k Scramble. 2nd overall was Fleet Feet/Multisports OC team-mate Louis Bednar. "I would have won this race if that P$%^Y would have stayed in the long race!" Louis bellowed shortly after finishing. Louis was happy again upon seeing the medals were all the same size and color, just like a baby with a shinny nickel. Fleet Feet Laguna Niguel elite athlete Jenifer Padilla, competing in her first mountain bike triathlon, won the female division overall with a dominating run performance with the second fastest OVERALL run time including men (just 2 seconds slower than Coach Mike). Rusty Moore came off the bike in 3rd overall, but faded to 15th after badly twisting his ankle during the riverbed sand run. The Fleet Feet "Nutty Professor", Steven Owen, took 3rd in the 50-54 age group. Fleet Feet sponsored Rookie Triathlete, Mike "SPAM" Foster, finished the race despite consuming several Rolling Rocks leading up to the race and breaking his chain during a pre-race ride of the course. Karen Mastro was delighted to win the 50-54 division and not do 2 laps in the heat of the day like Coach Mike. 1 Michael Collins #741 35 - 39 :09:57 :44:25 :21:32 1:15:54 2 Louis Bednar #745 30 - 34 :11:11 :50:00 :23:18 1:24:29 8 Jenifer Padilla #735 30 - 34 1 :12:26 :53:29 :21:34 1:27:29 15 Rusty Moore #680 35 - 39 :13:20 :49:22 :33:04 1:35:46 54 Steven Owen #688 50 - 54 :16:21 1:03:54 :29:11 1:49:26 116 Mike Foster #730 35 - 39 :20:21 1:17:02 :39:29 2:16:52 146 Karen Mastro #623 50 - 54 37 :17:25 1:39:00 :50:29 2:46:54 ====================================================================================
XTERRA WEST CHAMPIONSHIP: 1.5K Swim - 30K Bike - 10k Run
This was no picnic course. There were several people who were forced to drop out due to mechanical problems, crashes, and overheating. Among those forced to drop out were Ian Pyott, despite leading eventual winner Conrad Stoltz out of the water. Ian crashed hard on a switch back hitting his head resulting in a concussion and a poorly running bike. He rode a bit further before giving in due to nausea and lack of focus. Jon Clark suffered from overheating and dropped after 1 lap of the run. Warrior of the weekend award goes to David Bourguignon who damaged his rear wheel and derailleur in a crash and CARRIED his bike for the second loop, and still went on to do the run. 83 Michael Cowdrey #439 30 - 34 :20:56 1:41:02 :53:11 2:55:09 129 Gregory Hammond #238 25 - 29 :23:40 1:35:57 1:12:08 3:11:45 203 Kevin Brown #184 25 - 29 :27:21 1:47:34 1:18:33 3:33:28 234 David Bourguignon #183 30 - 34 :25:39 2:19:44 1:00:12 3:45:35 251 Brandy Bounds #105 20 - 24 54 :21:37 2:17:19 1:19:02 3:57:58 255 Gregory Staffon #366 45 - 49 :32:22 2:13:45 1:13:53 4:00:00 308 Steve De La torre #196 20 - 24 :29:55 2:45:49 1:37:25 4:53:09 Click here for
FULL RACE RESULTS
Click here for
TEAM PHOTOS FROM THE EVENT