On Friday evening June 15th, 2007 Jay Cutler (Denver Broncos Quarterback) and Jon Goldsberry (Chicago Bears Fullback) visited the Southern Indiana Spikes Athletic Center. A large crowd of current and former Spikes athletes and parents were in attendance. The evening started out with a light meal followed by a personal question and answer session with the two NFL players. There were several good questions and responses made through out the session. Jon & Jay did also touch on what it takes to be successful not only in sports, but in the game of life...hard work and dedication!!! Afterwards an autograph signing and picture session concluded the evening.
Everyone in attendance had a very memorable night at the Spikes Athletic Center.
(Click on "Pictures" in the left menu for more photos from the evening)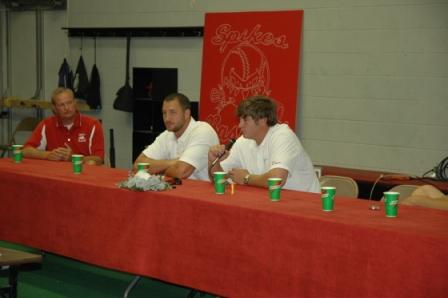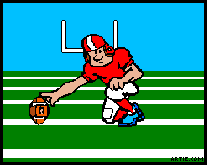 Just click on the title at the bottom of this page to download brackets & coaches packet.
Directions to Yellig Park Complex. Click Here!
Hello Coaches, Players, Parents & Fans!
We are very excited about the upcoming SIZZLER tournament hosted by the "Patriot Three Point Club". We are expecting great games and outstanding competition.
The pool play pairings and the brackets are complete. The files are in pdf format so that everyone should be
able to print them out.
<>
Reminders:
1. We will play by NSA rules
2. New metal Cleats are allowed
3. 2 pool games followed by Double Elimination
4. Weather may change the format of the tournament. We have the right to change the format.
5. You must provide Valid Proof of Insurance when checking in (no exceptions!)
6. You must provide 2 new games balls (only 2) leather with raised seam (no cheap balls or we will charge you $5.00 per ball)
7. You must have player Birth Certificates with you if questioned.
Pool play schedules will not change for anything other than an emergency situation. This schedule is complete.
There will be no refunds issued if you were to decide to pull out of the tournament.
Thanks for playing Santa Claus Softball. We love having you visit our park and city!
Don't forget to order t-shirts and Holiday World Tickets today from us! To see a picture of the tournamant t-shirt, just click on the link below "SIZZLER Tournamant Downloadable Information".
The 2008 11-U Southern Indiana Spikes baseball team won the 11 year old division of the Inaugural J-Card Early Bird Bash in Jasper Indiana on April 20th. They wrapped up the the tournament with a 4-0 record by defeating the Louisville Cyclones in the championship game. Team members include; Cody Seifrig, Taylor Market, Nicholas Waninger, Trevor Lehr, Tyler Ward, Gavin Schaefer, Caleb Sabelhaus, Austin Alles, Damon Wilmes, Mason Becher and Corey Ebelhar. Coaches are John Becher, Eddie Ward and Keith Waninger.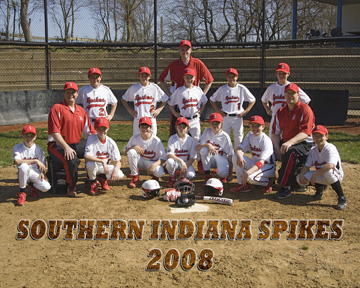 The Spikes will have two programs for apparel and merchandise in 2008.
The familiar, local store program is available along with a new on-line store that will feature items not in the local program.
Please see the next two Spikes website news articles for more information!

We are happy to announce that the 2008 local merchandise and apparel program is once again set up and ready for your orders. Please click on the link below to be re-directed to the new downloadable brochure. Please note that these local orders must be turned in to the designated local store by March 1st 2008. You must be a Spikes member and have website security clearance to access this document. If you have not set up a Spikes security logon and password, just follow the directions that come up after clicking on the link to aquire them.
Thanks!